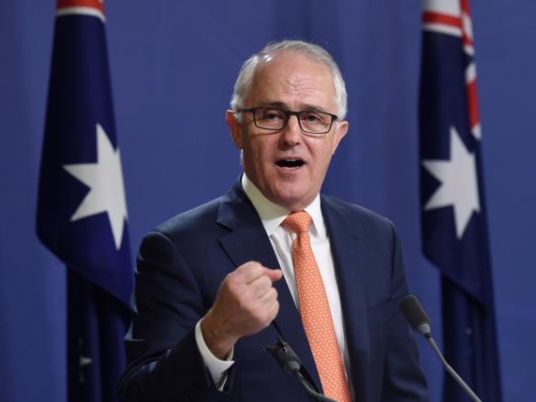 Prime Minister Malcolm Turnbull defended on Monday a proposal to ban asylum seekers who arrive illegally by boat from ever entering Australia again, rejecting criticism from rights lawyers who say it would breach the U.N. Refugee Convention.
Under Australia's tough immigration laws, asylum seekers intercepted trying to reach the country by boat are sent for processing at detention camps on Papua New Guinea's Manus island and the tiny South Pacific island nation of Nauru.
Some 1,200 people are currently held in the camps, and Turnbull's proposal has sparked speculation that the government has reached some deal for them to be resettled in the United States.
The legality of forever barring people from entering Australia after they have been resettled in a third country, having been officially recognized as refugees, has been questioned by rights lawyers and refugee support groups.
They say it would contravene the U.N. Refugee Convention, which states that no country will impose penalties on refugees due to their illegal entry or presence.
Turnbull, however, defended the proposal he first made on Sunday, and the government is expected to introduce the amendment in parliament next week.
"We have taken legal advice and we are satisfied it is within power and consistent with our international obligations," Turnbull told reporters in Yalata, South Australia.
Turnbull will have to secure backing from independent senators or the opposition Labor Party for the bill to pass into law.
Australia's policy of indefinite offshore detention has led to strong domestic and international criticism.
A resettlement deal could help Turnbull's approval ratings, which this month fell to the lowest level since he assumed office in September 2015.
Pressure on Australia to find a country willing to take some of the 1,200 detainees grew after Papua New Guinea's Supreme Court ordered the closure of the Manus Island detention centers earlier this year.
The United Nations and human rights groups have condemned alleged human rights abuses in the centers.
While refugee advocates welcomed moves to resettle detainees, they fear that more families would be divided if it was passed, and questioned its legality on constitutional grounds.
"The inherently discriminatory legislation is legally dubious and would likely face a constitutional challenge even if it did pass the parliament," said the Refugee Action Coalition.
"Offshore detention has already divided husbands and wives and parents from children, brothers from sisters. Turnbull's threat of a lifetime ban would mean more divided partners and families."