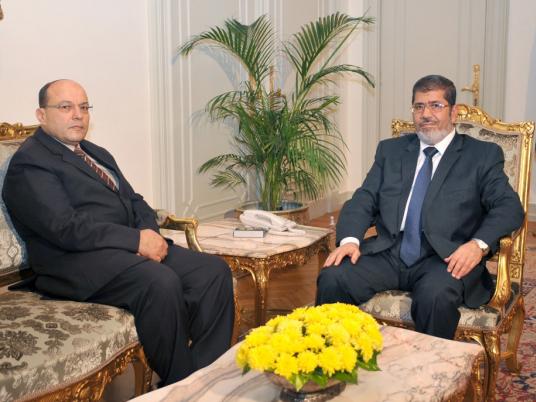 The head of a Cairo court said he is being summoned for interrogation over his decision to suspend court sessions in response to the continued tenure of the nation's top prosecutor.
An Administrative Court ruling on 27 March annulled the president's controversial appointment of Prosecutor General Talaat Abdallah.
Sahel Misdemeanor Court head Rowad Hama said that following the decision, he considers public prosecutors in his court illegitimate. He told Al-Masry Al-Youm the Judicial Inspection Authority has called him for questioning on Sunday.
An anonymous judicial source alleged the summons is an attempt to intimidate judges. The source agreed with Hama that court sessions are now invalid and said lawsuits filed by the Public Prosecution should not be accepted by the courts.
A number of junior judges and prosecutors plan to appear at the Judicial Inspection Authority Sunday to support Hama, the source added.
The Administrative Court ruling ordered Abdallah's predecessor, Abdel Meguid Mahmoud, reinstated but the decision has not been implemented and can be appealed before the Supreme Administrative Court.
President Mohamed Morsy dismissed Mahmoud last year in a controversial constitutional declaration and appointed Abdallah in his place. The presidency has insisted Abdallah now remain in office, citing the new Constitution, which states that the prosecutor general holds the post for a term of four years.
Opposition forces have called on the administration to respect the judiciary and its independence.
The Supreme Judicial Council has also asked the prosecutor general to step down to end the conflict, but a prosecution spokesperson said last week that Abdallah would not resign unless a final court verdict is issued.
Edited translation from Al-Masry Al-Youm