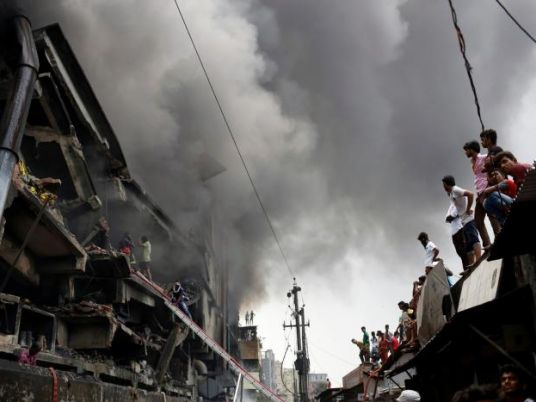 A fire at a food and cigarette packaging factory in Bangladesh killed at least 23 people and injured dozens on Saturday, in the country's worst industrial accident since the Rana Plaza building collapse of 2013 in which over 1,100 people died.
Emergency officials feared the death toll could climb after a fire broke out in the Tongi industrial zone about 20 km north of the capital, Dhaka.
The cause was not immediately known, but officials said a boiler explosion probably triggered the blaze at around 8 a.m. local time, as workers prepared to swap shifts.
"There were about 100 people inside the building when fire broke out," Mohammad Nayan, a worker who was helping with rescue efforts, told reporters.
Officials at the site said over 20 fire fighting teams were working to quell the blaze at the Tampaco Foils plant, which caused the partial collapse of the factory building.
"We cannot confirm whether any people are inside or not, but our priority is to rescue them if there is anyone inside," Mohammad Akhtaruzzaman, a fire department official at the site, told Reuters over the phone.
Another fire official said that although the blaze was under control, there were still flames inside the building so fire fighters had been unable to search the debris.
A manager at Tampaco Foils said he did not know how many people were inside the factory when the blaze broke out.
"Now my only focus is on my workers who were injured and on those who died. We will take care of them," said Syed Mokbul Hossain, chair of Tampaco and a former member of parliament.
"My company is fully compliant and I've never sacrificed on quality, as my clients are mainly multinational companies."
Tampaco's website says its clients include several local companies and global brands including British American Tobacco and Nestle.
Fire department officials initially identified the factory as a garment packaging plant, but later clarified that it packs food and cigarettes.
The fire will further tarnish the industrial safety record of one of the world's top garment exporters.
In the Rana Plaza disaster, 1,135 mainly garment industry workers were killed when a building collapsed outside Dhaka.
That sparked demands for greater safety in the country and put the onus on multinational companies sourcing clothing from Bangladesh to act.
The disaster led to the creation of two international coalitions designed to help fund improvements to building and fire safety at thousands of garment factories across Bangladesh.
"So far our focus was only on readymade garment factories, but now this disaster has opened our eyes to the fact that we should also focus on other factories," Syed Ahmed, the head of the Department of Inspection for factories in Bangladesh, told Reuters.
The latest incident comes weeks after over 100 people fell ill when they inhaled gas that leaked from a fertilizer plant in the town of Chittagong in southern Bangladesh.