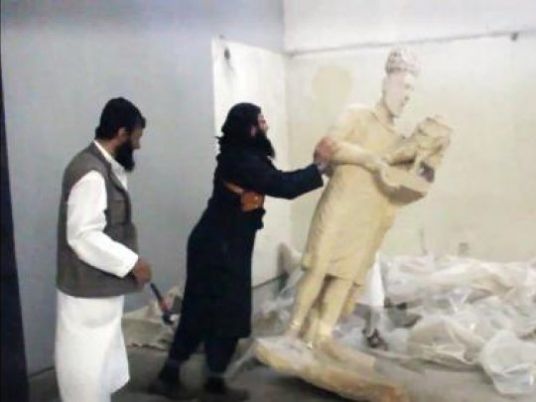 Islamic State militants were not invited to a conference of several hundred Middle East business leaders in Jordan this week, but they played a big role in the debate.
The conference, one of the most high-profile annual meetings in the region, was suffused by concern that Islamic State's expansion could derail efforts to boost trade and investment in much of the Middle East.
The World Economic Forum on the Middle East and North Africa, held in an opulent resort area on the shores of the Dead Sea, addressed how to cope with start-up firms, bring more people into the formal banking system and manage urbanisation.
At night, executives networked and sipped drinks on terraces overlooking the Dead Sea.
But Islamic State's expansion in Syria and Iraq was never far from the conversations. On the second day, businessmen crowded around a mobile phone to examine a map showing Islamic State's growing territory, coloured brown.
"Here we are and 200 kilometres (125 miles) away, the barbarians are at the gate," observed Hisham El-Khazindar, managing director of big Egyptian investment firm Qalaa Holdings.
One the eve of the conference, the militants took Palmyra in Syria; three days before that they seized the strategic city of Ramadi in neighbouring Iraq.
Both cities are less than a day's drive from the heavily guarded conference centre. During the meeting, Islamic State claimed an attack that killed 21 people in Saudi Arabia.
Many executives urged their governments to work harder to create jobs and wealth, to cut the militants' appeal among disaffected youth. But most of their policy proposals were variations of ideas that governments have already tried.
Confidence
By disrupting Jordan's overland trading routes with Iraq and Syria, Islamic State and the Syrian civil war have for now squelched hopes of a trade boom in the area.
One session at the conference discussed Jordan's plans to develop its tourism industry, a key foreign exchange earner. But Islamic State is making those plans harder to implement. Tourism revenue fell 12 percent from a year ago in the first quarter as some Western visitors reacted to the headlines by staying away, the Jordanian foreign minister told Reuters last month.
Jordan has escaped economic crisis because of billions of dollars in foreign aid; the International Monetary Fund expects gross domestic product growth to edge up this year, to 3.8 percent from 3.1 percent in 2014.
Most economies in the Gulf and North Africa have not been seriously hurt by militant attacks. In Egypt, foreign investment is rising after the government pushed through economic reforms. Most Gulf Arab countries have escaped militant attacks and their economies continue to grow robustly as governments draw on their financial reserves to spend heavily.
But executives said the benefits of such policies could eventually be lost if the threat from Islamic State continued to grow, undermining confidence among local and foreign investors.
Political conflict "is rendering the future of the region increasingly bleak", Bassem Awadallah, a former Jordanian finance minister who is now chief executive of Dubai-based consultancy Tomoh Advisory, told the conference.
Awadallah praised the Jordanian government's investment projects but said it needed to do more to create jobs by improving the education system and making it easier for smaller companies to obtain financing.
Other executives urged their governments to deregulate, partner with private firms on investment projects, and encourage women to work. These policies have been tried by many governments across the region with mixed success; they face bureaucratic and in some cases political obstacles.
A complex chart created to aid debate at the conference listed violent militancy as a major issue for Middle Eastern economies, linked by "transformation vectors" to factors such as education and social media.
For one frustrated Jordanian banker, the debates were too academic: "The Middle East is burning and we're talking about abstractions."