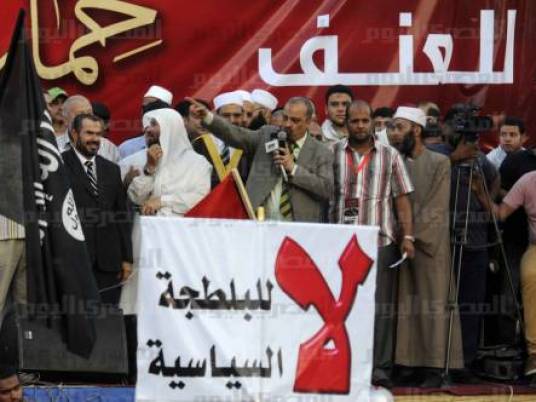 Former MP and Muslim Brotherhood leader, Mohamed al-Beltagy, said that he has been on a hunger strike since Saturday in response to being put in solitary confinement and not being allowed to receive visitors.
"
I breathe air from the bottom of the cell door, but thanks to God, I will remain persistent until the last moment of my life, facing those who are oppressive," Beltagy said in a statement that was posted on his Facebook page. "I won't be satisfied if I give up to the demands of the brutal bloody military coup, which killed my daughter and hundreds of other martyrs."
Beltagy's 17-year-old daughter, Asmaa, was killed in the violent dispersal of the pro-Morsy sit-in in Rabaa al-Adawiya Square on 14 August.
"I will continue on my absolute hunger strike until the coup government and the Interior Ministry stop their discrimination against me, or else I will die a martyr, while rejecting injustice, insisting on my right to humane treatment, and the rights of the Egyptian people for freedom, dignity and justice," he added.
A Freedom and Justice Party spokesperson said that Beltagy's wife was detained when trying to visit him on Tuesday. She was later released on bail.
Beltagy is detained in Tora prison on charges of inciting violence in the weeks following the ouster of Morsy in July.
Edited translation from Al-Masry Al-Youm