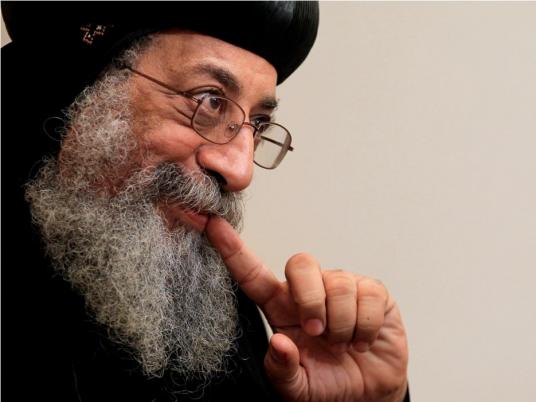 Bishop Tawadros II, who will become the 118th pope of the Coptic Orthodox Church on 18 November, said that the rise of Islamist movements is not a source of concern for him.
The pope-elect told Kuwaiti newspaper Al-Rai that strengthening relations between all segments of society is the responsibility of the state, and called on authorities to consult with the people and pay attention to youth voices.
On the relationship between Copts and recently emerging Islamist movements, Tawadros said, "For our part, we work with love and respect, reject violence, and, of course, reject the idea of ​​attacks on property, people, lives and homes."
However, Tawadros added that Copts still face problems in Egypt, speaking of "the existence of some groups that make up crises to distract the Copts from the constitution. Certainly there are some with malicious thought in our society."
There are three representatives from the church in the Constituent Assembly, including a bishop and two legal advisors, who are involved in discussions over the next constitution. The pope hopes for a constitution that the respects the concept of citizenship.
On Samir Morcos serving as an adviser to the president, Tawadros described Morcos as "a well-respected and appreciated figure, but this does not prevent the question about the reasons for choosing him in particular. Was he appointed to complete the picture with a female and a Copt [within the presidential team]? This is unacceptable and has no meaning. Was he appointed to be associated with Coptic issues? He himself announced that this is not his role. "
Tawadros also denounced the participation of some priests and monks in protests, saying, "This is completely unacceptable; the priest's work is pastoral and the monk is a man who left the world of his own free will — if he participates in demonstrations, how will people believe that he is a monk?
"Those who do that sentence themselves to desertion and deprivation," he added.