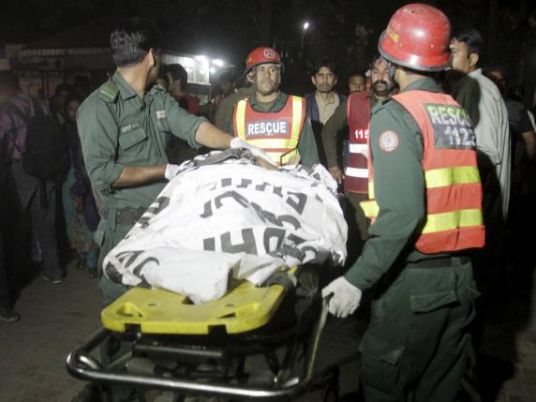 A bomb blast at a Pakistani hospital killed at least 45 people and wounded dozens on Monday in Quetta, the capital of the violence-plagued southwestern province of Baluchistan, police said.
The bomb exploded as mourners, mostly lawyers and journalists, gathered to accompany the body of Bilal Anwar Kasi, a prominent lawyer, who was shot and killed in the frontier city earlier on Monday, an eyewitness said.
More than 50 mourners were entering the emergency department of the hospital to accompany Kasi's body when the bomb went off, Faridullah, a journalist who was at the scene, told Reuters.
At least 30 people were killed, with at least that many wounded as well, a police official who was at the scene told Reuters. He spoke on condition of anonymity because he was not authorized to speak to the media.
The motive behind the attack was unclear and no group had yet claimed responsibility.
Television footage from the site showed scenes of chaos, with panicked mourners fleeing through debris as smoke filled the corridors of the hospital's emergency ward.
Baluchistan's Home Minister Sarfraz Bugti said earlier at least 10 people were killed and 30 wounded.
Kasi was shot and killed while on his way to the main court complex in Quetta, senior police official Nadeem Shah told Reuters.
Police cordoned off the hospital following the blast, restricting access to the area.
Targeted killings have become increasingly common in Quetta, the capital of a province that has seen rising violence linked to a separatist insurgency as well as sectarian tensions and rising crime.
Quetta has also long been a base for the Afghan Taliban, whose leadership has regularly held meetings there in the past. In May, Afghan Taliban leader Mullah Akhtar Mansour was killed by a US drone strike while traveling to Quetta from the Pakistan-Iran border.