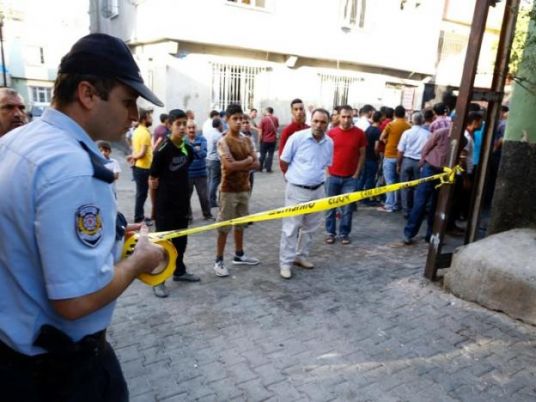 The suicide bomber who attacked a wedding party in the southeastern Turkish city of Gaziantep on Saturday killing 51 people was a child between the ages of 12 and 14, President Tayyip Erdogan said on Sunday.
In comments shown live by broadcaster NTV, Erdogan also confirmed that 51 people had died in the blast, and 69 were wounded. Seventeen of the injured were "heavily" wounded, Erdogan said.
He also stated that it was likely that Islamic State militants had carried out the late-night attack, one of the deadliest this year in Turkey, which faces threats from militants at home and across the border with neighboring Syria.
"The celebrations were coming to an end and there was a big explosion among people dancing," said 25-year-old Veli Can. "There was blood and body parts everywhere."
On Sunday morning, smashed garage doors and windows could be seen at the site of the blast.
The pro-Kurdish Peoples' Democratic Party, or HDP, said in a statement that the wedding was for one of its members, and women and children had been among those killed.
Mahmut Togrul, an HDP lawmaker from Gaziantep, told Reuters it was a Kurdish wedding. Islamic State has been blamed for suicide bombings on Kurdish gatherings in the past as militants try to stir ethnic tensions.
"It was carried out like an atrocity," witness Ibrahim Ozdemir said. "We want to end these massacres. We are in pain, especially the women and children."
Turkey is still raw after an attempted coup on July 15 which Ankara blames on US-based preacher Fethullah Gulen. He has denied the charge.
Three suspected Islamic State suicide bombers killed 44 people at Istanbul's main airport in June, then the deadliest in a string of attacks in Turkey this year.
In October last year, suicide bombers killed at least 95 people when they attacked a rally of pro-Kurdish and labor activists outside Ankara's main train station.
Violence flared up again this week in the largely Kurdish southeast, with bomb attacks leaving 10 people dead in separate attacks, mostly police and soldiers, in an escalation that officials blamed on the PKK, Kurdish separatists militants.