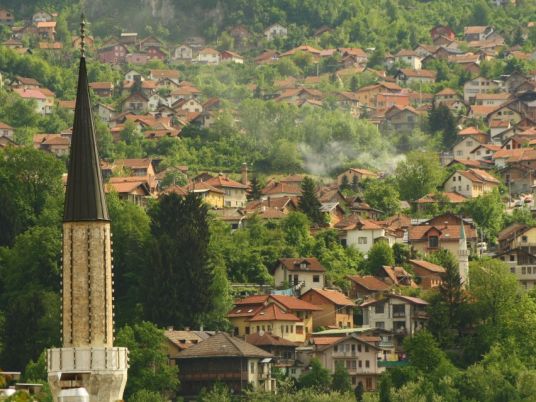 Bosnia has indicted 12 people for forming a terrorist group and traveling to Syria and Iraq to fight for the Islamic State, the state prosecutor's office said on Friday.
The indictment follows raids and arrests across the Balkan country over the past eight months, during which weapons, bombs, ammunition and specialist military equipment had been seized, the office said in a statement.
"The accused are charged with… accepting radical ideology of the so-called Islamic State organized on the territory of Syria and Iraq, collecting means and leaving Bosnia to join terrorist organizations," it said.
It said the men had left for Turkey during 2013 and 2014 and from there illegaly crossed into Syria, where they stayed for several months and took part in terrorist activities.
The Islamic State group has seized large swathes of territory in Syria and Iraq, imposing a radical interpretation of Islam and calling on muslims to support their campaign.
Most Bosnian Muslims, known as Bosniaks, practice a moderate form of Islam. Experts say the emergence of militant strains may reflect the influence of Mujahideen who came from Iran and Arab states during Bosnia's 1992-95 war to fight alongside Bosniaks against Orthodox Serbs and Catholic Croats.
Efforts to stop Bosnians fighting in the Middle East began last year when Bosnia introduced jail terms of up to 10 years for citizens who fight or recruit fighters for conflicts abroad and are seen as a security risk upon their return.
The government estimates around 200 have left Bosnia, where Muslims make up 45 percent of the population, for Syria and Iraq. Several dozen have been reported killed.
Husein Bilal Bosnic, a Muslim cleric believed to be an unofficial leader of the ultra-conservative Salafi movement in Bosnia, is currently on trial for publicly inciting and recruiting people to go to fight in Syria and Iraq.