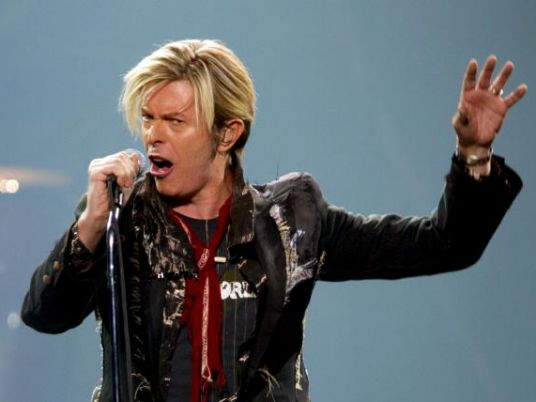 Karaoke, electro, harp and even musical saw versions of David Bowie's greatest hits rang out in London on Sunday as fans gathered for a tribute concert a week on from the pop icon's death.
"The world would be a very different place without David Bowie and many people feel a distinct need to say goodbye to him," said Stefan Simanowitz, one of the concert organisers.
The coming-together was for "everyone whose lives have been touched by his music".
"Starman: A Celebration of David Bowie" was held at the Union Chapel, a Gothic revival Congregational church in Islington, north London, which regularly hosts concerts and performances.
Attended by 900 fans in the pews, the four-and-a-half-hour event began with a karaoke version of "Starman" (1972) sung wholeheartedly by Bowie devotees young and old alike.
Three pews were reserved for Bowie's friends and collaborators.
Bowie's music "is the soundtrack of our lives", said fan Louise Gilmour, 27, her face covered in Ziggy Stardust-style make-up.
"It's really sad. I genuinely think I lost a family member."
Scotty Watson, 27, said the evening was "special for me and for all of us here, because we all have a connection to Bowie.
"I remember being about 12 or 13 and my friend's dad put 'Ziggy Stardust' on. He talked about playing the guitar and that really stuck with me. He meant a lot to me. That's why we are here."
Between video clips and interviews with the British singer-songwriter, artists such as David McAlmont, The Feeling frontman Dan Gillespie Sells, and The Magic Numbers performed Bowie songs.
The sister of the late Mick Ronson — the guitarist in Bowie's Ziggy Stardust-era band the Spiders from Mars — spoke to the crowd.
"We've all been very affected by the passing of David," said Maggie Ronson.
"Whoever we are, all over the world, we've all been affected by David in some way."
Bass player Guy Pratt, who has worked with the likes of Michael Jackson, Elton John and Pink Floyd, played a faithful version of "Life on Mars" (1971), one of Bowie's best-known songs.
The night drew to a close with a mass singalong of his 1977 Berlin-era hit ""Heroes"".
Bowie died of cancer on January 10, two days after bringing out a new album entitled "Blackstar" on his 69th birthday.
His death and private battle with terminal cancer shocked his millions of fans around the world.