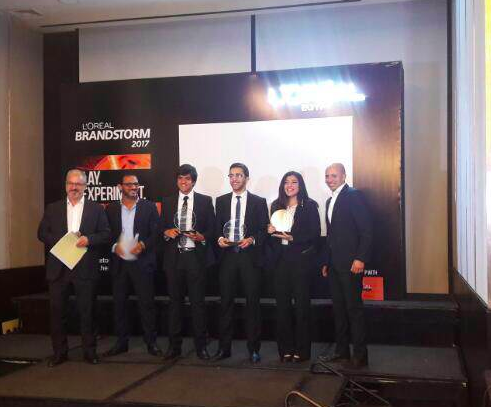 Brandstorm, a national competition, edition of the global business game, was organized by L'Oréal Egypt last week at the Dusit Thani LakeView Cairo.
The competition brought talented students from Egypt's top universities together to qualify promising talents to compete for the national title and send the best potential team to the global business game abroad to represent the country.
With over 95,000 participants from more than 58 countries over the course of 25 years, Brandstorm has become one of the top business games that globally aims to enable students to go beyond living the professional experience and allow them to transform their innovative ideas into reality.
In addition, participants are given a hands-on experience so they will be proficient enough to set foot on the job market.
This is not the first edition of the Brandstorm competition to take place in Egypt, as in 2016 L'Oreal Egypt launched Brandstorm here with 72 students registering from more than three universities, formulated into 24 teams.
During the six-month assignment, participants were provided with coaching tools, support and guidance in order to enable them to achieve their targets and be ready to compete on the international level.
"We were honored to have this exceptional once-in-a-lifetime experience from which we learned a lot," said the Egyptian finalist team who had the chance to travel to Paris to present their project.
"Having the chance to compete against more than 58 countries, learning from each team's different approache is priceless. Above all, knowing that you can witness your project see the light, and for it to be executed in real life, makes the challenge worth it."
This year, Brandstorm game is reinventing the concept to further open up the competition, especially to engineering and technology profiles.
More than seven top universities participated, represented in 52 teams and 156 talented students, with a 90 percent increase in the teams joining the competition.
Hossam Soliman, L'Oréal Egypt HR Director, said during the event: "Brandstorm is one of the top business games worldwide and one of the top launched in Egyptian universities. It provides a unique opportunity for talents to unleash their creativity and entrepreneurial skill, helping us discover young brilliant minds. I am happy to see every year it attracts more students and more universities from all over Egypt."
He added: "I am confident we have in Egypt the talents and creative minds that can compete globally and represent Egypt in the finals". At the end, he wished the young attendees all the best in 2017 National Finals.
The Egyptian finalist team won the competition in technical field and will travel to Paris to compete at Brandstorm, the global business game.