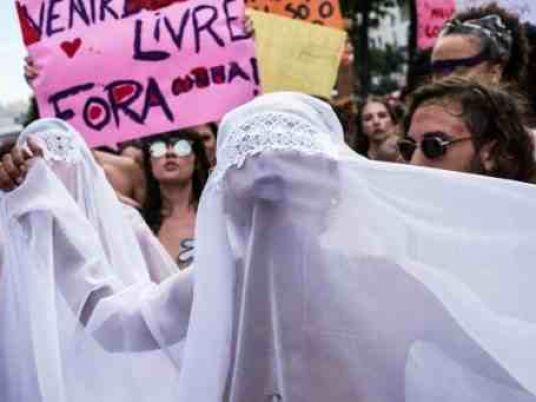 Topless, with slogans scrawled on their bare skin, feminist protesters in Rio made a colorful sight Saturday, yet their worries about horrific violence against women were deadly serious.
The 200 to 300 protesters from the international SlutWalk movement blocked traffic along Rio de Janeiro's Copacabana beachfront avenue in various states of undress.
The raunchy tone is a key element of SlutWalk demonstrations, targeting what activists say is the widespread blaming of women for their own rape on the grounds that their behavior or clothing supposedly encouraged the assault.
"My body, my rules," was the principal slogan.
"I can't believe I'm fighting for this in 2015," read another.
But few placards were needed.
Messages were inscribed with crayon or lipstick onto backs, stomachs, arms and breasts.
Some ignored Brazilian laws against toplessness, others circumvented the rule with a piece of sticky tape over a nipple, and the rest simply wore as little as possible — including one of the few men present, who wore only a sheet of transparent plastic.
Despite the party atmosphere, with samba dancing and excited whoops, Stephanie Ruas, 26, said the women were all there for grim reasons, including the fifth highest rate of murder of women in the world.
"We may face violence anywhere. At school, as a young girl, at work — that's the culture," she said. "Brazil is one of the worst places for a woman to travel alone. When I travel I bring a special doorjamb so that my hotel room cannot be opened."
Murder every two hours
A woman is killed every two hours in Brazil, making this the fifth deadliest country for women in the world after El Salvador, Colombia, Guatemala and Russia, according to a Brazilian study released earlier this month based on health ministry figures.
In the biggest city, Sao Paulo, a woman is assaulted on average every 15 seconds, the United Nations says.
The demonstration was also the second this week in Rio to protest new abortion restrictions proposed by the powerful, socially conservative speaker of the lower house in Congress, Eduardo Cunha.
If passed, a woman who wants an abortion because she has been raped — one of the few permissible categories at present — would first have to provide proof of the crime.
"Cunha out!" chanted the protesters as they marched.
"Men in Brazil think we are objects," said Indara Costa, 18. "We want to be able to do what we want with our bodies without being harassed."
This was the fifth SlutWalk march held in Rio, but its impact is hard to measure.
Eliene Juffa, 43, a philosophy professor attending the rally in a low-cut bikini top and jean shorts said that even though Brazil has its first female president, Dilma Rousseff, "the people in Congress, the people who make the laws, are conservative, nearly all men, and Evangelists."
Aside from the temporary traffic snarl, Rio got on with its usual weekend rhythm.
Tourists snapped pictures of the women and moved off, a squad of police special forces cruised by with automatic rifles pointing from the windows of their truck, and beachgoers sauntered past without comment, drinking from coconuts.
But for an enterprising vendor with a cooler of water bottles, the protest, held on a scorching day, was nothing but good.
"I respect them. Everyone has a right to their own body," he said with a big smile, adding: "They drink a lot of water."