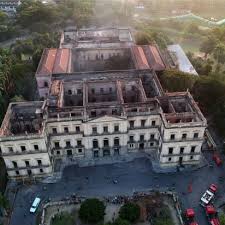 Brazil's National Museum officially announced on Tuesday May 9 the recovery of 200 pieces from its 700-piece collection after the museum's building was engulfed by a fire last September.
Before the devastating fire, Brazil's National Museum used to house the biggest Egyptian artifacts collection in Latin America, The Independent reported.
The restored pieces included statues, vases and amulets that had been found buried along with a mummy dating back to 750 B.C..
Alexander Kellner, director of the museum, stated to press that the museum's recovery process was financially supported by the Brazilian government, the German government and online money-raising campaigns.
The director said that President Jair Bolsonaro's current government has not allotted any money to offer in the restoration process, warning that they have almost run out of the previously allocated funds.
"Look, all this is going to end. There is no way we can continue," Kellner mentioned, affirming that he could not reach Education Ministry officials, on whom the museum relies for its funding. He also avowed that without the help of the Ministry of Education, there might not be a National Museum in the future.
Furthermore, officials ensured that so far only 2,700 out of 20 million artifacts had been repaired since the fire gutted Brazil's National Museum.
Investigations referred to the incorrect installation of an air conditioner as the main cause of the fire, The Independent reported.