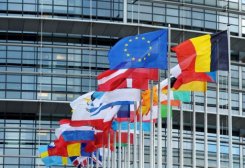 European leaders spoke early on Thursday and agreed to push ahead with a package of sanctions against Russia by the end of the week, due to its aggression towards Ukraine, British Prime Minister David Cameron's spokesman said.
"This morning the prime minister took part in a joint call with several fellow European leaders; president (Herman) Van Rompuy, Chancellor (Angela) Merkel, president (Francois) Hollande and prime minister (Matteo) Renzi," Cameron's spokesman told reporters.
"(They spoke) to discuss the subject of sanctions against Russia in the context of Ukraine and agreement to proceed with the implementation of the sanction package that was agreed earlier in the week."
Sanctions come into force when published in the official journal of the European Commission. "They were in agreement it should be published by the end of the week," the spokesman said.
EU diplomats had said on Wednesday that while Germany was pushing to have the sanctions implemented, several other EU countries had wanted to hold off because a ceasefire in Ukraine was holding.
"The focus of the call was all about how sanctions and the fact that you have had this increasing ratchet of sanctions has been working and that is why it is important these sanctions go ahead and are implemented," Cameron's spokesman said.
"If Russia genuinely reverses course then of course European Union and others will return to the subject but there unfortunately has been very little evidence so far and that is why you have the European Union going ahead."