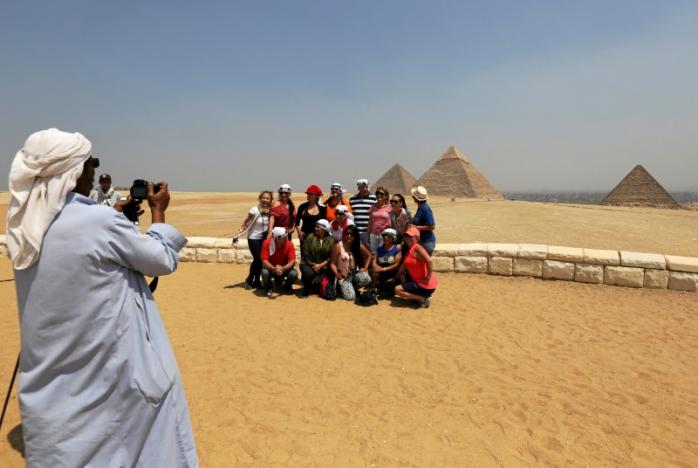 The British ambassador to Egypt, John Casson, revealed in a 'tweet' on Monday that the number of British tourists in Egypt is up by 74 percent in 2017, adding that he will continue supporting efforts to increase the figure.
Casson posted photos of himself on the Nile and monuments in the major tourist destination of Luxor, before attending a ceremony honoring the services of the Honorary British Consul in Luxor, Ihab Gaddis.
Recently, Casson stated that the major UK airline, Thomas Cook, will be resuming flights to the Egyptian city of Marsa Alam, in order to accommodate "growing British demand" for Egyptian holidays.
Thomas Cook's suspension of flights to Marsa Alam had been enforced since 2008, now the airline will operate two flights each week from Birmingham airport and London Gatwick airport.
Thomas Cook flights to Hurghada airport increased from nine to 11 flights each week, and the company is expected to operate more flights for the winter tourist season. On its website, the airline highlighted the ideal weather and the beauty of diving in the Red Sea, available from its Marsa Alam and Hurghada resorts.
Egypt witnessed a slump in visitors following a series of terror attacks which prompted a suspension of UK flights to the major tourist destination, Sharm el-Sheikh.
Additionally, the claim of responsibility by the IS-affiliated militant group, 'Sinai Province', of the fatal Russian airplane crash in the Sinai Peninsula in 2015 which killed all 224 people on board, was another major blow for Egypt's tourist industry.
Russia, Germany, France, and the UK subsequently halted flights to Sharm el-Sheikh airport.
But in the wake of Egypt's renewed security procedures, Germany allowed flights to resume, while Russia, France, and the UK are engaged in negotiations with Egypt to resume flights to Sharm el-Sheikh airport.