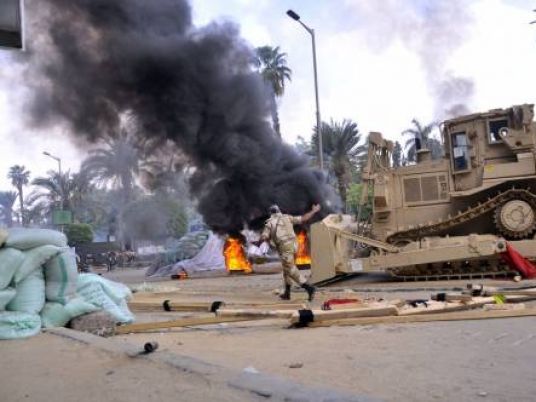 The Muslim Brotherhood has vowed to continue sit-ins demanding the reinstatement of deposed president Mohamed Morsy as security forces started to disperse the month-old protests, reportedly leaving dozens dead.
The group said it would proceed with the sit-in at Rabaa al-Adaweya Square, and would stage a sit-in at Mostafa Mahmoud Square near the al-Nahda Square sit-in that has just been dispersed hours ago.


Meanwhile, conflicting reports have emerged about the number of casualties among police and protesters.


Mahmoud Shaaban, a Brotherhood-affiliated journalist, told Egypt Independent that the deaths do not exceed 100 people, putting injuries at 500 people. Hamza Zawba, spokesperson for the Brotherhood's Freedom and Justice Party, told Egypt Independent that the number of deaths stands at 500, along with 700 injuries. While Brotherhood spokesperson Ahmed Aref said in a press statement that the number of those killed during the dispersing of the sit-ins had reached 600, with 500 injuries.


The Health Ministry has put the deaths at 15, while the Interior Ministry said five officers were killed in the operations.


Sources from Egypt's Presidency told Egypt Independent that there had been a decision to not disperse the sit-ins, which was ratified by the National Security Council. The sources added that, however, violations by protesters outside several ministries and their attempts to disrupt traffic were behind the overturning of this decision.


Zawba said that the Brotherhood would maintain its right to stage sit-ins until legitimacy is restored.
"We will not accept the rule of coup perpetrators who open fire at protesters in squares and on the street," he argued. Zawba said protesters will face fires "with bare chests," voicing confidence that they will "see victory at the end." He said actions by security forces are evidence of their failure after they had been embarrassed before the public.
"Security forces, which have allowed Israeli planes to fire on our sons with rockets, are the same who are firing at the sons of our nation."


Shaaban claims that security officers stationed on the rooftop of the Military Intelligence building near Rabaa al-Adaweya have been shooting relentlessly at the sit-in. "Brotherhood individuals are facing those snipers with automatic guns," he said, adding that there is now no control over those protesters who had seen dead bodies filling the place.


Shaaban said that the situation at Rabaa is dramatic, noting that whole families, including women and children are still there. He warned of a massacre leaving thousands dead if security forces decided to raid the sit-in.


Security arrested Sheilh Hossam Abul Bokhary, a Salafi preacher, and also besieged Brotherhood senior leader Mohamed al-Beltagy inside Rabaa al-Adaweya Mosque. There is no news yet on whether he was arrested or not.
The identities of the dead have yet to be identified in the chaos predominating in the area.