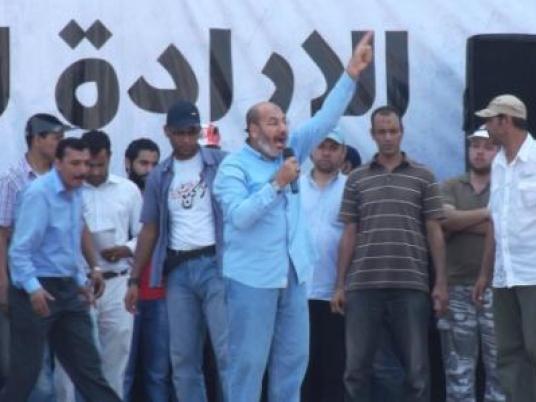 The Shura Council's general committee on Tuesday made new appointments to the National Council for Human Rights (NCHR), Egypt's governmental watchdog, choosing mostly members with an Islamist background.
The NCHR was formerly dominated by the now dissolved National Democratic Party. The regime of ousted President Hosni Mubarak used the council to polish its tarnished record of human rights abuses.
The committee appointed Judge Hossam al-Gheriany, the current head of the Constituent Assembly who is known to have Brotherhood sympathies, as the acting head of the NCHR. Socialist Popular Alliance Party member Abdel Ghaffar Shokr was named as Gheriany's deputy.
Many members are known for their Islamist orientation, including former presidential candidate for the Salafi Asala Party Abdullah al-Ashal, former Salafi Nour Party MPs Talat Marzouk and Abdallah Badran, and pro-Brotherhood preacher Safwat Hegazy. Muslim Brotherhood leaders Mohamed al-Beltagy, Mahmoud Ghozlan, Mohamed Tosoun and Hoda Abdel Moneim, as well as the group's lawyer Abdel Moneim Abdel Maqsoud, were also appointed to the council.
Other figures appointed to the NCHR are doctor and writer Amire Abouel Fotouh, Constituent Assembly member Ehab al-Kharrat, economic expert Abdel Khaleq Farouk, former MP Marian Malak, lawyer Fahmy al-Damati, and Coptic activist and professor Mona Makram Ebeid. Activists Ahmed Harara, Mohamad Zarea, Tarek Mouawad, Hanna Gerges, Ahmed Seif al-Islam and Wael Khalil were also named to the council.
The NCHR's secretary-general will be elected among the 25 members or be appointed from outside the council in accordance with its established law, sources at the Freedoms and Justice Party said.
The Free Egyptians Party criticized the new formation of the council. Free Egyptians Party spokesperson Ahmed Khairy questioned the council's criteria for selection.
"The Shura Council's choices reveal how absurd it is. When it chooses Safwat Hegazy as a member of the National Council for Human Rights, it definitely does not know what it is doing," said Khairy.