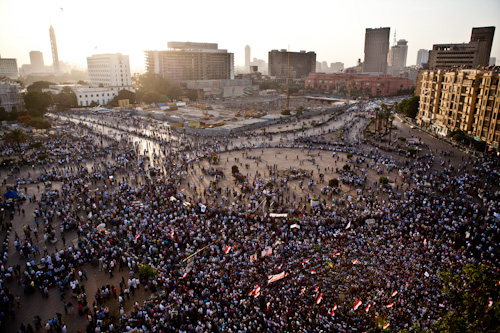 The Muslim Brotherhood plans to join protests called for by political and revolutionary groups Tuesday to demand the retrial of officers accused of involvement in the killing of protesters during the January 2011 uprising, the organization said Monday.
Many Egyptian activists and revolutionary groups since Sunday have called for mass demonstrations Tuesday to protest the verdicts handed down in the trial of former President Hosni Mubarak, ex-Interior Minister Habib al-Adly, six security officers and Mubarak's two sons.
A Cairo court on Saturday sentenced Mubarak and Adly to 25 years in prison on charges of failing to stop the killing of protesters during last year's uprising, in which about 850 people were killed.
Brotherhood secretary general Mahmoud Hussein said in a statement that the decision to participate in the protests comes in response to popular demands to retry the officials accused of killing the protesters and punish those who destroyed evidence that could have been used against those charged.
Saturday's verdict prompted spontaneous demonstrations across Egypt, with some protesters declaring a sit-in in Tahrir Square — the epicenter of protests that toppled Mubarak.
The pro-democracy April 6 Youth Movement, the 25 January Revolution Youth Coalition, the Maspero Youth Union and other groups called for mass protests Tuesday.