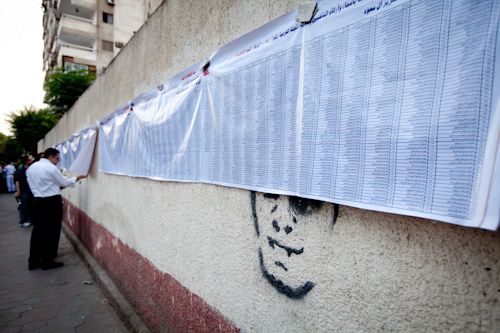 A Muslim Brotherhood lawyer and legal adviser to presidential hopeful Mohamed Morsy said Saturday that more than 1.5 million military personnel, prohibited by law from voting, were listed as eligible voters for the first round of the presidential elections.
Abdel Moneim Abdel Maqsoud, the Morsy campaign's legal advisor, told Al-Masry Al-Youm Saturday that he expects the number of military personnel on voters' lists in the runoff to be double that from the first round.
Despite repeated requests, Abdel Maqsoud said he had still not received a copy of the complete voters' lists from the Presidential Elections Commission.
He said the delay in handing over the list was "unjustifiedand alarming," with less than a week remaining before the second round of elections begin.
"If the Supreme Presidential Elections Commission is keen to conduct fair elections and if it is certain that names of [ineligible voters] are not listed in violation of the law, why doesn't the commission speed up the delivery of [a copy of] the database, so as to reassure the candidates and voters?" Abdel Maqsoud said.
Meanwhile, another Brotherhood legal advisor said that the Shafiq campaign's representative in Saudi Arabia is acting to hinder the electoral process.
Mokhtar al-Ashry, chairman of the Freedom and Justice Party legal committee, told Al-Masry Al-Youm that Shafiq's representative objected to voting by mail in Saudi Arabia as an attempt discourage voters in the country, where Morsy is likely to be favored over Shafiq.
"Shafiq's supporters have obstructed voting abroad after they circulated a rumor that voting by mail was banned." Ashry said. "After our representatives discovered that, we contacted the Egyptian Embassy in Saudi Arabia and the ambassador immediately issued a statement confirming that voting by mail was allowed. But Shafiq's representative still continues to object and hinder the voting process.'
Ashry said he had notified Judge Hatem Bagato who has said he will travel to Saudi Arabia to follow up on complaints about mail-in voting.
Edited translation from Al-Masry Al-Youm