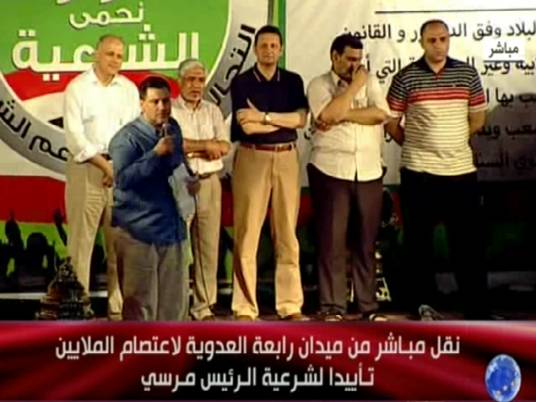 A statement issued by the Muslim Brotherhood said the group will not offer its opinion on initiatives proposed for the resolution of the current crisis before consulting with the National Alliance for the Support of Legitimacy.
The group's statement comes in response to an initiative presented by Mohamed Selim al-Awa, an Islamic thinker, and other Islamist figures, including Hassan al-Shafie, adviser to Al-Azhar's Grand Sheikh, Tareq al-Beshry, a constitutional expert, and Mohamed Emara, an Islamic thinker.
Meanwhile, Nader Bakkar, Nour Party leader, said on Twitter that the initiative could form the basis for dialogue with the introduction of some amendments.
The initiative, which has five axes, calls for ousted President Mohamed Morsy to delegate the powers he has in conformance with the 2012 constitution–which has been suspended–to an interim national cabinet that would call for the election of a parliament, according to the Muslim Brotherhood-linked website Misr 25.
The initiative calls for conducting early presidential election after a "permanent cabinet"is formed. Procedures for the amending of the constitution and for national reconciliation should be democratic, the initiative stipulates.