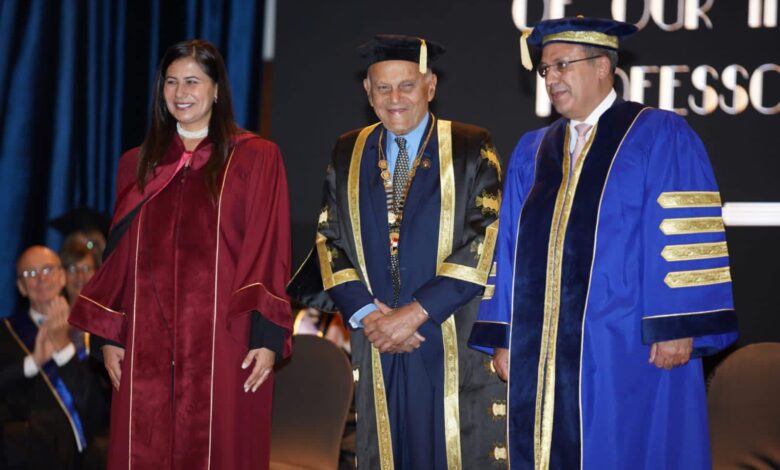 The British University in Egypt (BUE) inaugurated the great international surgeon, Sir Magdi Yacoub, as the first honorary president of the university, in the presence of the Minister of Planning and Economic Development, Hala al-Saeed, and the Minister of Health and Population, Khaled Abdel-Ghaffar.
After the inauguration, Saeed said that Yacoub represents the link between Egypt and the world, as he is a well-known symbol for millions of people around the world, in addition to his legacy, honoring him for the values ​​of hard work, dedication, integrity and mercy.
Saeed noted to Magdi Yacoub Heart Foundation in Aswan, which was established in 2008 in partnership with the late Nobel prize laureate Dr. Ahmed Zewail.
He is committed to continue to sow hope for Egyptian patients, especially among the disadvantaged.
She added that, based on donations only, the foundation runs the Aswan Heart Center, which provides free medical care services, as well as training medical personnel.
Saeed added that the Aswan Heart Center was able to mobilize more than just financial donations.
The center has also succeeded in instilling faith and trust among thousands, even millions of Egyptians.
This is especially evident in young people who have become aware of their individual and collective capabilities to improve their lives and make a positive impact.
She emphasized that the values that Yacoub upholds and reflects in his continuous activity are more important now than ever before.
Saeed added that at a time when the world is facing the repercussions of a global pandemic, geopolitical tensions, and escalating environmental challenges.
There is a definite need for cooperation in working to overcome these challenges, create opportunities, and generate hope.
She commended the British University in Egypt for its outstanding contributions to Egyptian higher education, since its establishment in 2005.
Saeed explained that the university was able to achieve international quality standards in higher education and scientific research, as well as its belief in its social responsibility, and its dedication to reaching out to other higher education institutions.
Providing benefit to governmental and non-governmental organizations, to make an impact in scientific research and youth development is of paramount importance to him.