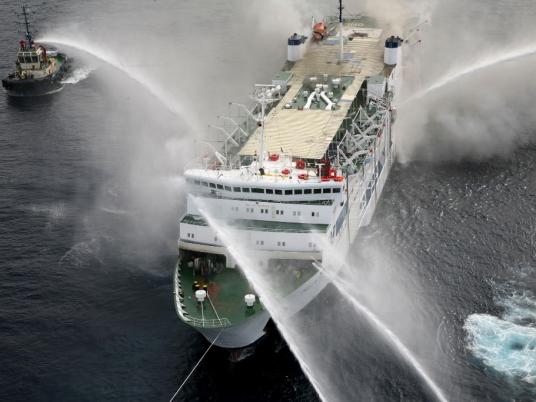 The Egypt-bound passenger ferry that caught fire Thursday in the Red Sea capsized Monday off the coast of Jordan, sources have said.
An official source at Arab Bridge Maritime, which owned the Pella ferry, had said the ferry was not in danger of sinking as the blaze had not created any holes in the ferry's body. He also noted that the ferry was being tugged toward Jordan's Aqaba seaport.
Egyptian and Jordanian naval forces initially believed they had managed to rescue all of the 1230 passengers ― mainly Gulf-based workers ― aboard the Pella. But officials at Jordan's civil defense authority said one Jordanian passenger died after jumping into the water to escape the fire.
Following the incident, Egyptian Transport Minister Ali Zine al-Abidine ordered the inspections of passenger ferries operating between Saudi and Egyptian ports. A representative of the insurance firm has arrived at Arab Bridge Maritime's headquarters and is prepared to disburse compensation for the company and passengers based on the results of an investigation into the fire.
The Egyptian Authority for Maritime Safety Affairs has raised a safety alert for all ports, lengthening work shifts for its agents on the operating ferries.
Translated from the Arabic Edition