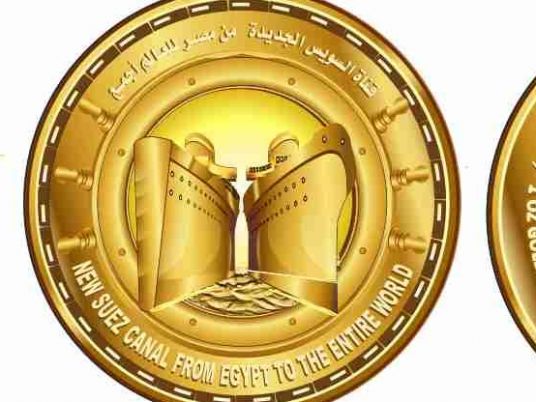 The Cabinet has approved the Suez Canal Authority's request for issuing a commemorative coin for the inauguration of the New Suez Canal on August 6, 2015, Minister of Finance Hany Qadri Demian announced on Wednesday.
The Mint, affiliated with the Finance Ministry, will issue the 21-carat gold coin in different weights, and put it up for sale, said the minister.
One face of the coin will bear the New Suez Canal logo, next to the phrase "The New Suez Canal from Egypt to the entire world", and the other side will show two ships crossing the canal in two opposite directions, symbolizing the canal's positive impact on the international shipping traffic, according to the minister.
The coin was designed by engineers at the Egyptian Mint Authority: Yasser Saad Eddin and Salma Asaad. The coins will be distributed to presidents, kings, and international delegations attending the inauguration ceremony, the minister added.
The New Suez Canal project will provide a boost to the Egyptian economy, contributing to increasing Egypt's share in world trade by increasing the number of ships and tankers passing through the Suez Canal, said Demian.
The Suez Canal Authority expects its returns to increase from US$5 billion to about $13 billion over the next eight years, as a result of the new waterchannel, according to Demian.