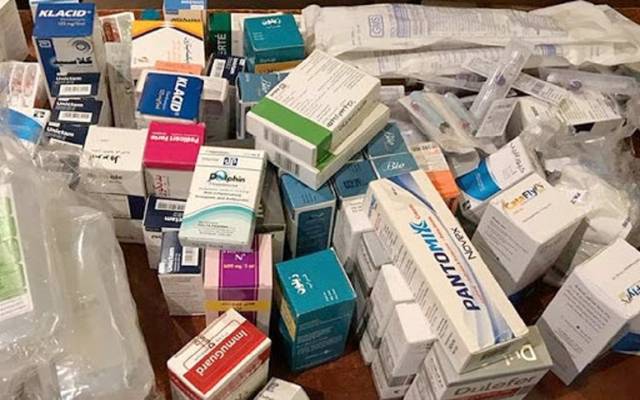 The Egyptian Cabinet's Media Center on Tuesday debunked rumors spread on social media that there is a shortage of drugs on the state's coronavirus treatment protocols.
The cabinet directly contacted the Egyptian Pharmaceutical Authority for clarification and was told that there are no shortages whatsoever in any of the nation's strategic stocks of drugs.
Egypt has a strategic stock of medicines and raw materials covering six to 12 months, the authority assured.
The authority added that it has prepared additional quantities in coordination with the Unified Purchase Authority, in line with state's strategy for early prediction of drug shortages.
From June up until October, the authority supplied 12 million packages of azithromycin tablets, 1,900,000 thousand bottles of azithromycin, 246,000 thousand paracetamol tablet packages, 1,900,000 bottles of Paracetamol, 14,500,00 thousand vitamin zinc tablets, and 22 million vitamin C tablets.
The authority also established a monitoring system to avoid any shortage of drugs through following up important and vital drug stocks such as drugs to treat coronavirus symptoms, insulin, blood pressure, emergency care tumors, radiology dyes, parkinson's, blood derivatives, immunity, intravenous solutions and anesthesia in order to meet the local market's need as well as supply government hospitals.
A September report from the Egyptian cabinet's medical affairs secretariat has confirmed that the country currently has an adequate supply of medication to cover the treatment of patients afflicted by COVID-19, Prime Minister Mostafa Madbouly confirmed in October.
The PM's medical advisor, Hossam al-Masry, confirmed that the acquired quantities will meet the needs of the local market for coronavirus patients, stressing that citizens do not need to panic and stockpile medicines.
During the coronavirus pandemic's initial onset, Egyptians rushed to local pharmacies to buy medications rumored to help battle the virus, leading to severe shortages around the country.
Edited translation from Al-Masry Al-Youm