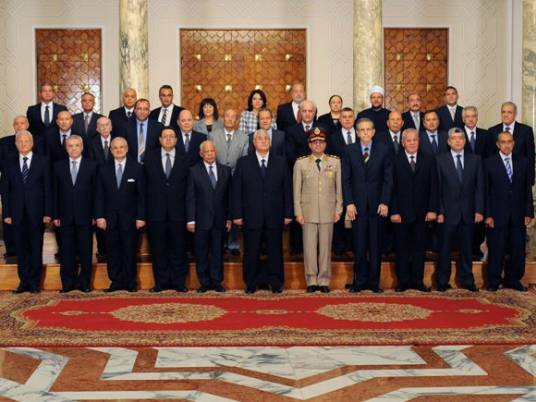 The resignation of three ministers will be decided on next week, according to a high level government official.
The Cabinet reshuffle will also be announced after Defense Minister Abdel Fattah al-Sisi makes a decision whether to run in the presidential election, as he must first step down as minister.
The official, who preferred anonymity, told Al-Masry Al-Youm that deputy prime minister Ziad Bahaa Eddin has earlier offered in his resignation to the Prime Minister, in addition to Sports Minister Taher Abu Zeid, who linked his resignation with the implementation of his decision to dissolve the Al-Ahly Club board of directors, a decision which would be difficult to implement after FIFA implied freezing the sports activity in Egypt in the light of the government interference in the sport affairs.
The Prime Minister is scheduled to meet, in a few days, with the President to consult on the ministerial portfolios to be adjusted, especially since there are reports on poor performance of some ministers and the need to change them.
He stressed that the contacts are already being made with some figures nominated to hold posts in the new cabinet reshuffle, which is scheduled to include about eight ministries and two deputy prime ministers.
The government is also considering reducing the number of ministerial portfolios by merging some ministries together, such as international cooperation and planning, which is the same ministry currently chaired by Ashraf Al Arabi.
Reports also say that there is a tendency within the government to promote Housing Minister Ibrahim Mahlab to take over the post of Deputy Prime Minister for Services, in addition to his position at the Ministry of Housing .
Edited translation from Al-Masry Al-Youm