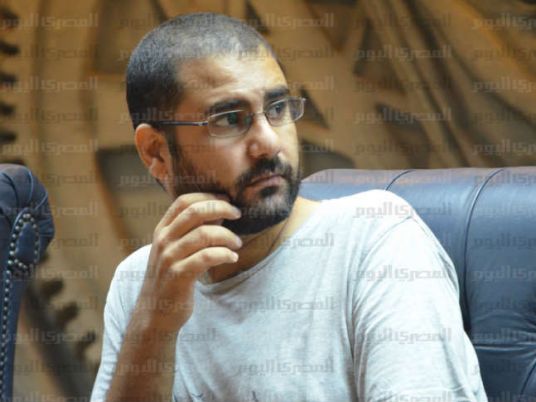 Egypt's Court of Cassation issued a final ruling on Wednesday in the case of detained political activist Alaa Abdel Fattah, upholding his five year prison sentence, and changing the description of the sentence from "jail" to "imprisonment."
According to Wednesday's verdict,  Abdel Fattah will spend the remaining one year and a half of his five-year sentence, as well as five additional years in probation, and a fine of EGP 100,000.
The ruling can not be appealed.
The activist's initial sentence of 15 years was reduced to five years after a retrial in February 2015. Abdel Fattah has so far served three and a half years of his term. He was arrested along with 24 others, and sentenced on charges including protesting without a police permit and attacking a policeman.
Abdel Fattah, a software engineer, blogger and activist, was one of the public faces of the 2011 revolution that removed dictator Hosni Mubarak from power.
All others sentenced in the case have been pardoned by the president on separate occasions.
Last month, a judge at Egypt's Court of Cassation withdrew from his appeal case, and set a new trial date for November 8 after referring the case to another circuit.
The judge gave no clear reason for his decision, only citing "embarrassment."
The case was among the most prominent in a series of trials of secular dissidents who have been jailed along with thousands of Islamists since July 2013.
Egyptian and international human rights groups claim that tens of thousands of political prisoners reside in Egypt's prisons. President Abdel Fattah al-Sisi denies the claims.