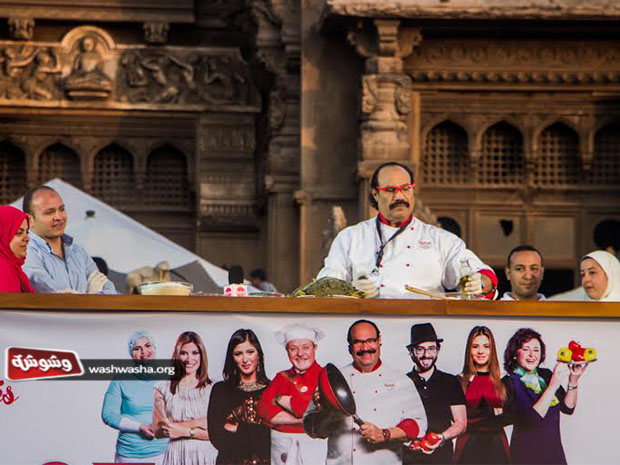 The CairoBites food festival returned to Cairo for the third year running on Friday and Saturday, attracting thousands of food fans to the Merryland Park in Heliopolis.
The theme this year was "Old is Gold", focused on 80s and 90s Cairo, with Egyptian pop stars such as Hossam Hosny and Alaa Abd El Khaleq performing on the dedicated entertainment stage.
The other main stage was taken up by the event's main sponsor, television channel CBC's culinary show CBC Sofra. Several celebrity chefs from the program could be seen on the Sofra stage performing an extended version of the cooking show.
Those not engrossed in the cooking show or music were wandering around the dozens of booths rented by food-related companies keen to advertise their wares.
Visitors lounged in restaurants and coffee shops, or picked over the offerings in patisseries, or browed among the many kitchen-related gadgets on sale. Zepter displayed their fine range of pots and pans, while Philips showed off a host of electronic goods.
CairoBites media representative Sarah Abdallah said, "The idea was to gather all the foodies in one place, because Egyptians love food. We also wanted to bring in restaurants to showcase their menus, so that people have an idea what kind of food there is available to them in Cairo. People can try samples from restaurants and know what they're about, see if they like them or they don't.
"We wanted people to try new food. Maybe someone hasn't tried sushi before or a certain kind of burger. They can come here and try it, see how they feel."
The food on offer varied from burgers and other Western-style cuisine through to Eastern delights, such as shawarma and the above-mentioned sushi.
The event organizers had taken families into account, providing a large kids' play area near the Sofra stage, with slides and a bouncy castle, so children could play while their parents watched the show.
One visitor to the festival, Norhan, said, "It's a brilliant experience! I don't usually like festivals and when I came I was kind of nervous that it wouldn't be good, but it really is amazing. We tried some restaurants we hadn't heard of, and we were really impressed. I hope they have another one next year. We ate a lot and had a lot of fun."
Abdallah explained some of the history to the event, which has been growing apace since it started in 2014, moving venue each time.
"The first CairoBites was held at the Baron Palace garden and the number of attendees was 8,000. Last year, was the second CairoBites and we had about 15,000 attendees. The theme then was picnics, so we held it at the Family Park. We were the first event held at the Family Park, actually," said Abdallah.
"This year was all about nostalgia, going back, old is gold, etc. We decided to focus on the 80s and 90s… We invited popstars like Hossam Hosny and Alaa Abd El Khaleq and so on."
Abdallah says that people can expect another CairoBites next year, since it has been such a big success, both as a family day out and a feast for Cairo's foodies.