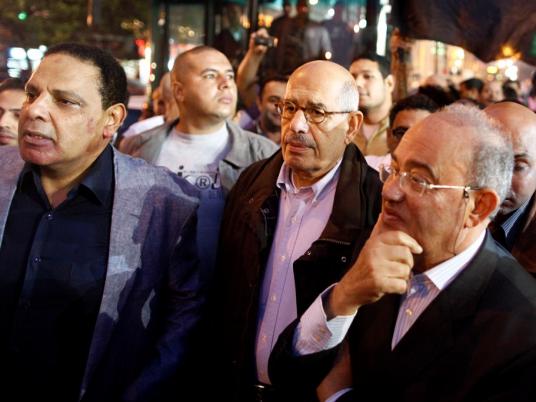 Constitution Party head Mohamed ElBaradei said that if his party is successful in the coming parliamentary elections, the top priority would be the cancellation of the new constitution.
ElBaradei told BBC on Monday that he believes the new constitution constrains basic values such as freedom of belief and expression and independence of the judiciary.
The Constitution Party is a member of the National Salvation Front along with the Wafd, Conference, Egyptian Social Democratic and Popular Current parties, and the National Association for Change.
In a press conference on Sunday, the front said it would run for parliamentary elections on one list.
Earlier on Monday, Hamdeen Sabbahi, founder of the Popular Current, expected the front to secure a majority in the elections.
In an interview with the Turkish Anadolu news agency, Sabbahi rejected the new constitution, saying, "The referendum was manipulated. However, we'll deal with it as a fact. We'll struggle to cancel it."
He added that comparing the results of the March 2011 referendum with the recent on indicates a decrease in Islamist popularity, specifically that of the Muslim Brotherhood.
In March 2011, the Constitutional Declaration was passed with a 78 percent vote after Islamist campaigns in support of the document. Preliminary results indicate that the draft constitution was approved by 64 percent. Sabbahi anticipated that this shift would help the NSF secure a majority in Parliament.