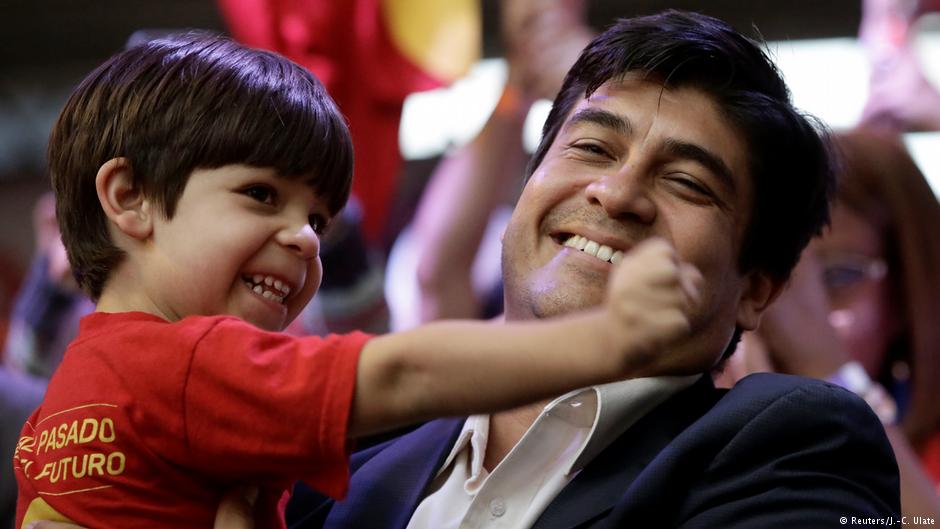 The Citizens' Action Party candidate has won a clear victory over his National Restoration Party rival, Fabrico Alvarado Munoz. The second round ballot revealed deep political divisions over gay rights.
Center-left candidate Carlos Alvarado Quesada won 61 percent of the vote in Costa Rica's second round presidential run-off vote on Sunday.
With nearly 91 percent of polling stations counted, the result puts Alvarado far ahead of his ultraconservative rival Fabricio Alvarado Munoz.
Decisive victory:
Carlos Alvarado won 60.66 percent of the vote.
Fabricio Alvarado won 39.33 percent of the vote.
Preliminary results were published at 8:15 p.m. local time (0215 UTC on Monday) with 90.66 percent of polling stations counted.
Electoral officials said there were no irregularities.
Some 3.3 million people were eligible to vote.
Who is Carlos Alvarado? The 38-year-old is a political scientist and writer who served as labor and social security minister in the former center-left government. He was a candidate for the Citizens' Action Party.
Who is Fabricio Alvarado? The 43-year-old is an evangelical pastor and former TV newscaster and gospel singer who heads the conservative National Restoration Party.
What happened in the first round? Fabricio won 25 percent of the vote and Carlos 22 percent. Both men fell short of the 40 percent threshold to avoid a second round run-off vote.
Split opinions: Both took diametrically opposed stands on a January ruling by the Inter-American Court of Human Rights (IACHR), which urged member countries to recognize same-sex marriage. Carlos supported the ruling, while Fabricio opposed it, with the latter Alvarado threatening to remove Costa Rica from the court.
Who is being replaced? Carlos will replace former President Luis Guillermo Solis, a member of the Citizens' Action Party, who was elected in 2014. Solis' popularity fell during his time in office amid a corruption scandal and his strong support for gay rights.