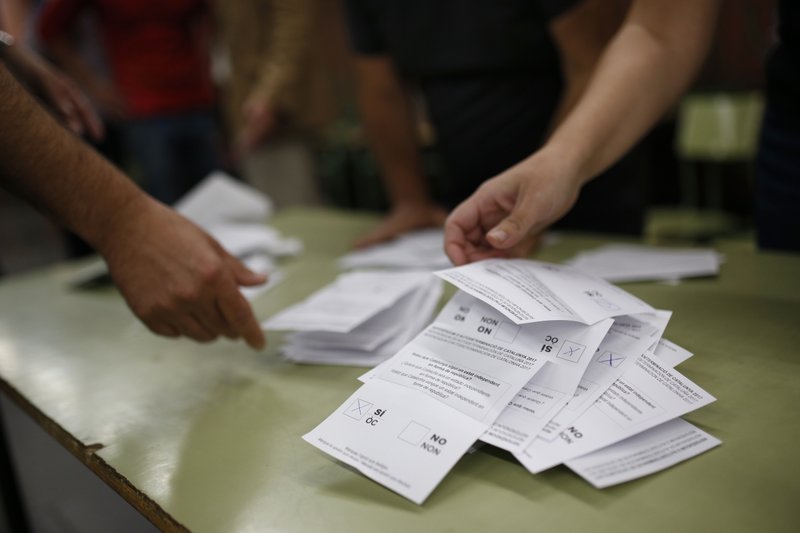 Catalonia's government will hold a closed-door Cabinet meeting Monday to discuss the next steps in its plan to declare independence from Spain following a disputed referendum marred by violence. Regional officials say the vote, which Spain insists was illegal and invalid, shows that a majority favor secession.
The referendum debacle brought both Spain and Catalonia closer to a potentially disastrous showdown as each side said Sunday's events proved them right and neither looked prepared to cede ground.
Catalan president Carles Puigdemont will chair the Cabinet meeting, which is expected to consider asking the regional parliament to vote on an independence declaration later in the week.
Spanish Prime Minister Mariano Rajoy, meanwhile, will meet with ruling Popular Party leaders before seeking a parliamentary session to discuss how to confront the country's most serious crisis in decades.
He also called an afternoon meeting with the leader of the main opposition Socialist party to discuss Spain's options.
Catalonia said preliminary poll results showed 90 percent favored independence after under half the electorate voted in a day in which regional officials say 844 people were injured in clashes with police. It wasn't immediately clear how many people were hospitalized. In addition, 33 police officers were injured.
Catalan leaders accused Spanish police of brutality and repression while the Spanish government praised the security forces for behaving firmly and proportionately.
Videos and photographs of the police actions were on the front page of news media outlets around the world.
In an editorial, leading Spanish daily El Pais blamed the Catalan government for Sunday's "shameful" events but also criticized the Spanish government for its inability to tackle the crisis since it began about seven years ago. The newspaper said the day was "a defeat for our country."
So far, the European Union, the US and most international bodies have backed Spain in its stance against Catalonia.
Catalonia, whose capital is Barcelona, represents a fifth of Span's economy. Polls consistently show that while most of its 7.5 million inhabitants favored a referendum, they are roughly evenly split on independence from Spain.