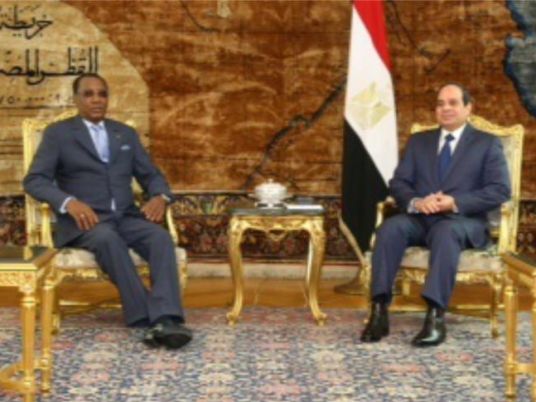 Chadian President Idriss Deby said Egypt is a great nation, its people have an ancient and glorious civilization, it is a hub for African, Middle Eastern and Mediterranean civilizations and has served as a source for cultural and scientific heritage.
This came after talks with President Abdel Fattah al-Sisi on Sunday. "Egypt is the mother of the world," he added, praising Sisi for his courage and political skills that restored stability to Egypt.
Regarding the situation in Libya, Deby said it is becoming increasingly complex. "Libya is no longer a homogeneous country since the regime has changed," he said, pointing to the violence and tension that is taking place there. "We as a neighboring country support security and stability in Libya because this brings security for the entire region."
He called on the international community to help the Libyan political forces hold dialogue to achieve unity. "The Community of Sahel-Saharan States asks President Sisi to help stabilize Libya," he said.
With regard to bilateral relations, Deby confirmed that they are excellent in the economic, agricultural, military, cultural and educational sectors, adding that Egypt Air has a direct flight that links the two countries.
"We look forward to more cooperation in agriculture, health and trade through our Joint Commission in order to achieve prosperity for our people," he said.
He concluded by saying: "Long live Egypt, long live Chad, long live joint cooperation, Long live relations between North and South."
For his part, President Sisi confirmed the close ties to Chad. "We appreciate Chad's support within the African Union," he said. "We will continue to build the capacity of Chad in various fields and according to the priorities of the Chadian program through the Al-Azhar institution and the Egyptian Partnership Agency."
"We agreed to find political solutions for Libya, Sudan and Central Africa to achieve peace and meet aspirations for a better tomorrow," he added.
He said talks with Deby were positive and constructive. "Egypt is strongly coming back to its African brothers," he said. "This is one of the fundamentals of Egyptian politics."
Edited translation from Al-Masry Al-Youm