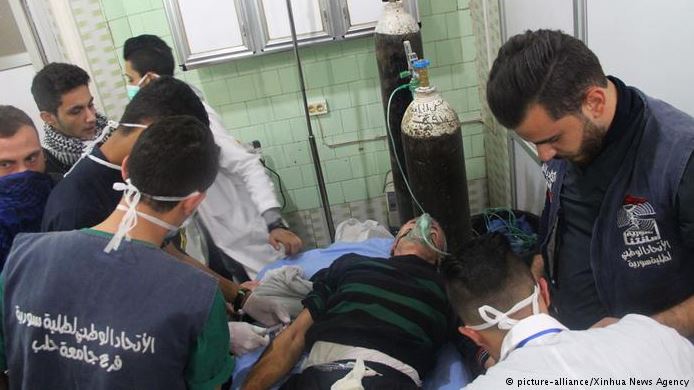 The head of the OPCW says the watchdog agency is mulling a mission to Syria to probe an alleged poison gas attack. The agency now has powers to assign blame — to the chagrin of Syria and Russia.
The Organization for the Prohibition of Chemical Weapons (OPCW) is making plans to send a team to the Syrian city of Aleppo, where an alleged gas attack on Saturday reportedly wounded up to 100 people, the agency's head said on Monday.
Officials from the Hague-based watchdog had been in touch with the UN department of security "to assess the security situation on the ground for a possible deployment" of a fact-finding mission, Director-General Fernando Arias told a meeting of OPCW member states in The Hague.
He said Syria, which accuses rebels of having fired shells filled with toxic gases on three Aleppo neighborhoods, had requested the mission.
A health official in Aleppo has said the breathing difficulties, eye inflammation and other symptoms suffered by victims of the alleged attack were typical of poisoning by chlorine gas.
Apportioning blame
The OPCW has now received new powers to point the finger of blame for chemical attacks — powers that have vehemently been opposed by both Syria and its ally, Russia. A joint UN-OPCW mission that already had such powers had a renewed mandate blocked a year ago at the Security Council by Russia.
That mission found that Syrian government forces had used chlorine and sarin on several occasions and that the extremist group "Islamic State" (IS) had carried out one attack with sulphur mustard gas. Other rebel groups have so far not been officially found to have used banned chemical weapons.
Following Saturday's alleged attack, Russian warplanes carried out aerial bombardments of several rebel-held areas in northern Syria, the first time in weeks it has done so.
The rebels deny having used banned toxic munitions.
Devastating conflict
Syria's civil war, which has its roots in initially peaceful anti-regime protests in early 2011, has killed several hundred thousand people. It has grown into a multi-party conflict in which Russia, an ally of Syrian President Bashar Assad, has assumed a considerable role.
The northern city of Aleppo was retaken by forces loyal to Assad in 2016. Rebels have stepped up shelling of the city in the past few weeks, despite a truce brokered by Turkey and Russia after the recapture.
tj/msh (Reuters, AP).