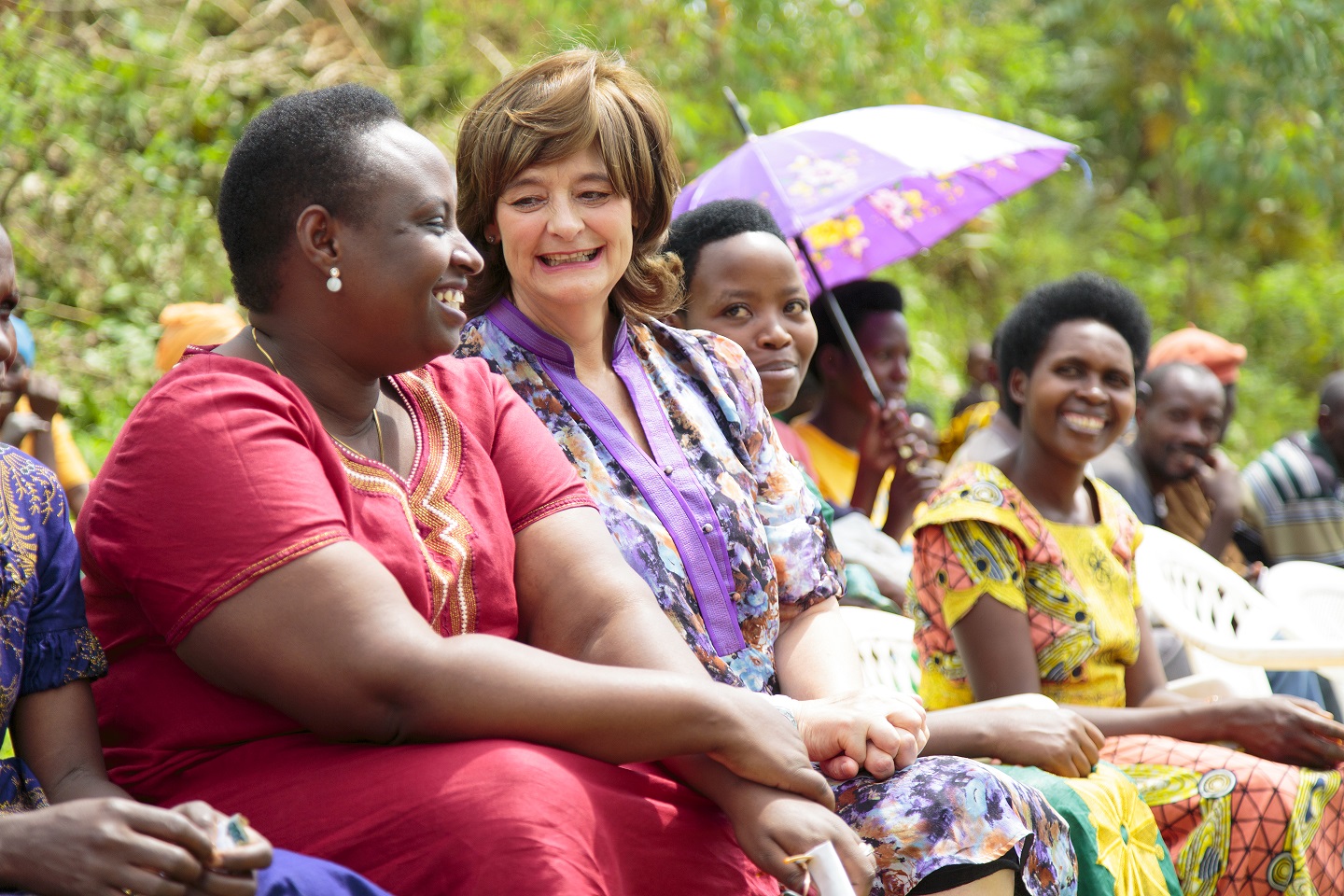 1) Which three words would you use to describe female social entrepreneurship today?
Powerful
Purposeful
Multiplying
2) Going back to basics, what motivated you to create the Cherie Blair Foundation for Women back in 2008, and why should we support women in creating their own businesses?
During my time at Downing Street, I was lucky enough to travel the world. I met countless women from different backgrounds, who were striving to set up businesses to create better lives for themselves and their families. I saw that, with the right support and tools, they could go on to achieve amazing things – not just for themselves, but for their families, communities and economies too. So, in 2008, I established the Cherie Blair Foundation for Women to support women entrepreneurs in developing and emerging economies – precisely because women in these countries face such greater barriers.
3) With regards to the women being accompanied by your mentoring programme, what tendencies do you notice regarding social entrepreneurship?
I am constantly inspired by the many ways the women entrepreneurs we work with feel a responsibility to 'pay it forward' and help others through their businesses. 80 per cent of our mentee community pass on what they'd learnt to others, while 50 per cent become mentors themselves.
One of the many inspiring social entrepreneurs our Mentoring Women in Business Programme has supported is Anja in Malaysia. She owns a company called Blubear Holdings Sdn Bhd – a social enterprise selling eco-friendly, reusable sanitary products, which ploughs over half its profits into programmes teaching life skills to girls aged nine to 17.
4) What kind of innovations or businesses do the women accompanied by the Cherie Blair Foundation develop?
We've worked with over 140,000 women entrepreneurs from over 100 countries, so as you can imagine the sectors and contexts they cover are hugely varied.
One great example is Mariela, one of our mentees from Argentina. She has worked in logistics in Argentina for two decades, but as a woman in a male-dominated industry, found that she struggled to have her ideas heard and progress to a management role. Frustrated, she and two friends decided to launch their own company, Kalima Shipping and Logistics Solutions, which offers logistical support to freight and trucking companies, focusing, in particular, on women-run SMEs.
5) What kind of obstacles do these women come up against?
Firstly, gender stereotypes and attitudes towards unpaid care work means that domestic duties are primarily placed on women's shoulders. This can have a highly detrimental impact on their ability to participate in the economy – whether as employees or entrepreneurs.
Another key challenge is a lack of access to training and financial services. The International Financial Corporation estimates that around 65 per cent of women-owned small and medium enterprises in developing economies are underserved by financial institutions, representing a financing gap of $260-320 billion. Educational inequalities compound the issue, since women often lack the financial literacy, skills and confidence needed to effectively manage their finances.
6) Why do you think women might be more in-tune with social entrepreneurship?
Perhaps it's the way we're conditioned – generally, girls are socialised to care in a way that boys often aren't. These rigid gender norms are shifting thankfully, but I do think that women's heightened awareness of the needs and considerations of others may attract more women to social entrepreneurship.
7) Growing up as a young girl in Lancashire, England, which key role models inspired you to believe in yourself and chase your dreams?
My father left us when I was very little. I was raised by my mother and grandmother – two very strong women who taught me the value of being self-sufficient at an early age.
Both my mother and grandmother had to leave school at 14 but, because of that, they were determined that my sister and I would have a better start in life. We were encouraged to make the most of our education and, importantly, to believe in ourselves.
8) You obviously started your career focusing on the domain of law, what led you to orientating more towards entrepreneurship and business?
There is one fundamental value that has guided my life and career – the belief that everyone has the right to participate equally in their societies. It's what attracted me to a career in law, and what guided my desire to start a Foundation focusing on women's entrepreneurship.
Globally, we desperately need more women leaders and role models to inspire subsequent generations. When it comes to contexts where safe and decent work in the formal economy is difficult to come by – and always even more so for women – entrepreneurship offers an opportunity for women to take control of their own futures, create jobs and improve the lives of their families and communities.
9) We've noticed that the majority of your team at the Cherie Blair Foundation for Women (like in many other institutes focusing on gender issues) are women. What role do you think men should play in supporting female social entrepreneurs?
Men are part of the problem, so they absolutely must be part of the solution. We cannot hope to tackle gender inequality without men being a part of driving that change.
The question is how we get men to the table on issues of gender equality, and how do we convince them to do more than just 'talk the talk'. How do we convince them that giving up some of their privilege and power would ultimately be beneficial for everyone, themselves included?
A great example is the Mann Deshi Foundation, one of our partners in India. In their programmes they offer financial literacy classes to men, after a woman attendee noted that there was no use her acquiring financial knowledge if her husband was going to continue his usual spending habits. They also celebrate the support of husbands at large community events where men are awarded for being particularly supportive of their wives' ambitions.
10) What advice would you give to women who still hesitate to launch their own business?
All too often, women are told that they can't. So my message is simply this: you can. Practical and emotional support for women entrepreneurs along the way is crucial – but inner strength and determination will make the difference between an aspiration remaining a dream or becoming a reality. When women believe in themselves, amazing things can happen.
11) To wrap things up and end on a positive note, looking into the future what kind of role models do you think young people (notably girls) should aspire to?
For today and fast forwarding into the future, and I think the ideal role models for girls would embody some of the same fundamentals. These women are true trailblazers and are creating positive spaces for others to achieve brilliance too.
Photo: Cherie Blair visits Rwandan women supported by her Foundation's Skilling for Change project. 
Credit: William Hirtle