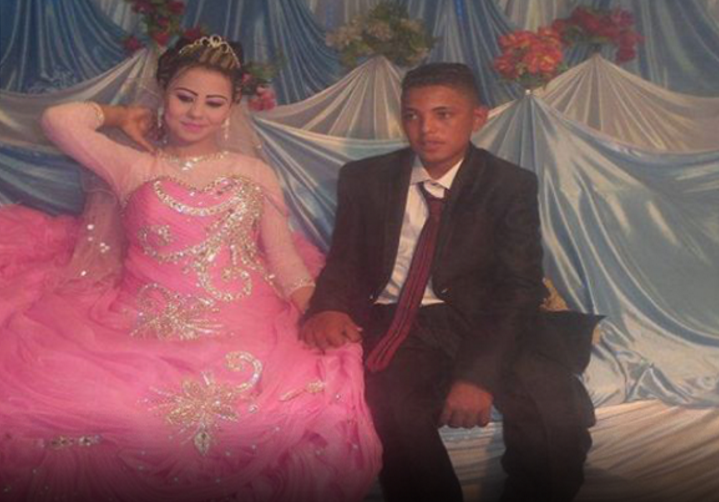 An official CAPMAS report announced that 117,000 children under the age of 18 in Egypt are or have been married, even as Egypt has been battling child marriage.
The report, which was released on the occasion of World Child Day, announced that Egypt has 39 million children, accounting for 40 percent of the total population.
The gender breakup of Egypt's children is 51.7 percent male and 48 percent female.
The report added that 117,000 children between 10 and 17 years are married or have been married, with Upper Egypt accounting for the highest percentage of marriages and divorces between children. On the other hand, outskirt areas such as the Red Sea, Sinai, Marsa Matrouh and Aswan recorded a lower percentage of 1.3 percent.
Egypt has been aiming to battle child marriage for some time. In June 2018, a new draft law was proposed to criminalize child marriage, bringing with it a penalty of up to one year imprisonment for those involved, while also taking children away from parents who allow them to be married.
The bill also stipulates that the Mazoun (official who performs the marriage) must notify the General Prosecution if a child marriage was occurring, while failure to do so would be met with job suspension and one year imprisonment. The law also states that a marriage contract to a person under 18 will not be authenticated, and the contract cannot be ratified without approval from the family court.
Abla al-Hawari, a member of the constitutional and legislative affairs committee of the House of Representatives, said that she is one who adopted the bill originally submitted by the National Council for Women (NCW)  to criminalize marriages of young girls, though the government wanted to expand the issue and include both genders.
The idea behind the bill was first proposed in late 2017, after President Abdel Fatah al-Sisi spoke during a ceremony marking the population census. There he suggested imposing strict penalties to limit the increasing number of female minors getting married.
Meanwhile, regarding education, the CAPMAS report found that only 28 percent of children between four and five years old go to school. Moreover, 91 percent of boys and 93 percent of girls between 6 and 11 years old go to primary school.
Secondary school students accounted for 80.6 percent for boys and 86.4 percent for girls between 12 and 14 years old.