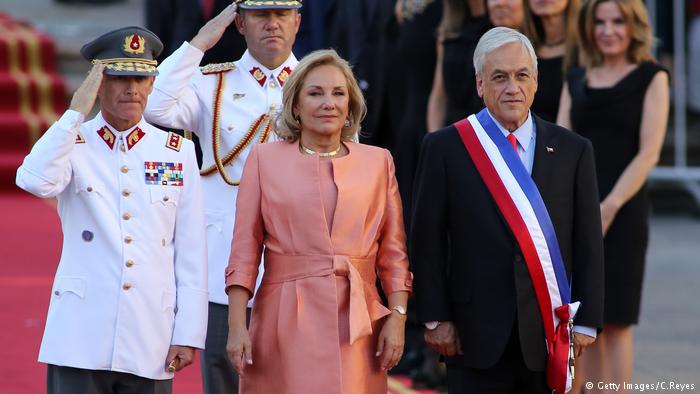 Pinera takes over from socialist Michelle Bachelet who capped a second term in office. He has vowed to fight economic "stagnation" from years of center-left rule.
Conservative billionaire Sebastian Pinera was sworn in as Chile's president on Sunday for the second time in eight years.
Pinera, who was president from 2010-2014, vowed to revive an economy that has slumped under years of center-left rule and called for austerity and support for the shrinking middle class in the Latin American country.
He said his government would perform "major surgery" on the public health care system.
"The state must be austere and efficient in the use of public resources… and must never be captured by bureaucracy, corruption or political operators," Pinera said.
"To make progress on all these goals, it is fundamental we counter the stagnation of recent years, restoring fiscal equilibrium as well as our leadership, dynamism and ability to grow," Pinera said in a speech from a balcony at the presidential palace in the capital Santiago.
Leaders from neighboring Latin American countries, including Argentina, Bolivia, Mexico and Peru attended the inauguration ceremony in the coastal city of Valparaiso. Also present was the former King of Spain Juan Carlos.