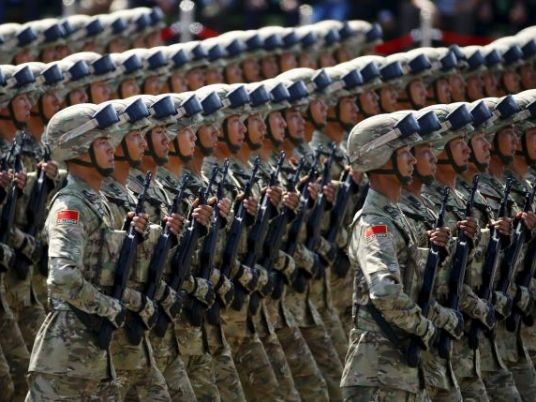 President Xi Jinping announced on Thursday he would cut troop levels by 300,000 asChina held its biggest display of military might in a parade to commemorate victory over Japan in World War Two, an event shunned by most Western leaders.
China's confidence in its armed forces and growing military assertiveness, especially in the disputed South China Sea, has rattled the region and drawn criticism from Washington.
Xi, speaking on a rostrum overlooking Beijing's Tiananmen Square before the parade began, said China would cut by 13 percent one of the world's biggest militaries, currently 2.3-million strong.
He gave no timeframe for a reduction that is likely part of long-mooted military rationalisation plans, which have included spending more money on high-tech weapons for the navy and air force. Troop numbers have been cut three times already since the 1980s.
"Prejudice and discrimination, hatred and war can only cause disaster and pain," Xi said under a clear blue sky. "China will always uphold the path of peaceful development."
He then descended to Beijing's main thoroughfare and inspected rows of troops, riding past them in a black limousine and bellowing repeatedly: "Hello comrades, hard-working comrades!"
More than 12,000 soldiers, mostly Chinese but with contingents from Russia and elsewhere, then marched down Changan Avenue, led by veterans of World War Two carried in vehicles.
They were followed by ballistic missiles, tanks and armoured vehicles, many never seen in public before. Advanced fighter jets and bombers flew overhead in a highly choreographed spectacle that lasted around 90 minutes.
Among the weapons China unveiled for the first time was an anti-ship ballistic missile, the Dongfeng-21D, which is reportedly capable of destroying an aircraft carrier with one hit.
Also shown were several intercontinental ballistic missiles such as the DF-5B and the DF-31A as well as the DF-26 intermediate range ballistic missile, dubbed the "Guam killer" in reference to a U.S. Pacific Ocean base.
SIGN OF STRENGTH
Greg Austin, a professorial fellow at the East-West Institute in New York, said the troop cuts had nothing to do with curbing military power.
"It's a determination to expand military power by redirecting money to higher impact, higher technologies, which can have more strategic effect," he said, referring to the maritime, cyber and space frontiers.
Peng Guangqian, deputy head of China's Council for National Security Policy Studies, said the equipment on display was intended to show the combat readiness of the People's Liberation Army (PLA).
"This indicates a change of the PLA training strategy; with more focus on actual combat," Peng told the official Xinhua news agency.
For Xi, the parade was a welcome distraction from the country's plunging stock markets, slowing economic growth and recent blasts at a chemical warehouse that killed at least 160 people.
Xi was joined by Russian President Vladimir Putin and leaders of several other nations with close ties to China, including Sudanese President Omar Hassan al-Bashir, who is wanted for war crimes by the International Criminal Court.
Most Western leaders rebuffed invitations to attend, diplomats said, unhappy about the guest list and wary of the message China would send with the show of strength.
Japanese Prime Minister Shinzo Abe did not attend the parade, which was held one day after the 70th anniversary of Tokyo's surrender in World War Two.
China's government repeatedly said the parade was not aimed at today's Japan, but to remember the past and to remind the world of China's huge sacrifices during the conflict.
However, it rarely misses an opportunity to draw attention to Japan's wartime role. On Wednesday, Xi said Japanese invaders before and during World War Two behaved with barbarity.
CHINESE NAVY IN BERING SEA
Xi has set great store on China's military modernisation, including developing an ocean-going "blue water" navy capable of defending the country's growing global interests.
In a sign of that emerging capability, five Chinese Navy ships were sailing in international waters in the Bering Sea off Alaska, the Pentagon said on Wednesday, at a time when U.S. President Barack Obama is touring the state.
China's Defence Ministry said the ships were there as part of routine drills not aimed at any particular country.
Pentagon spokesman Captain Jeff Davis said it was the first time the United States had seen Chinese navy ships in the Bering Sea.
"It is living up to what the Chinese have been saying, 'We are now a blue water navy. We will operate in the far seas and we are a global presence'," said Dean Cheng, a China expert at the Heritage Foundation think-tank in Washington.
Xi will meet Obama in Washington for talks later this month that will be dominated by a host of issues, including China's growing military reach.
Beijing was locked down to ensure nothing went wrong at the parade, with much of the downtown off-limits, a three-day holiday declared and ordinary people kept well away.
"This parade and patriotism are two separate things," said Mi Guoxian, who had come to Beijing for a wedding, standing on a nearly deserted street behind a line of police.
"This is for the national leaders."
(Additional reporting by Michael Martina and Meng Meng in BEIJING, Matt Siegel in SYDNEY, Kaori Kaneko in TOKYO and Phil Stewart in WASHINGTON; Editing by Dean Yates and Nick Macfie)