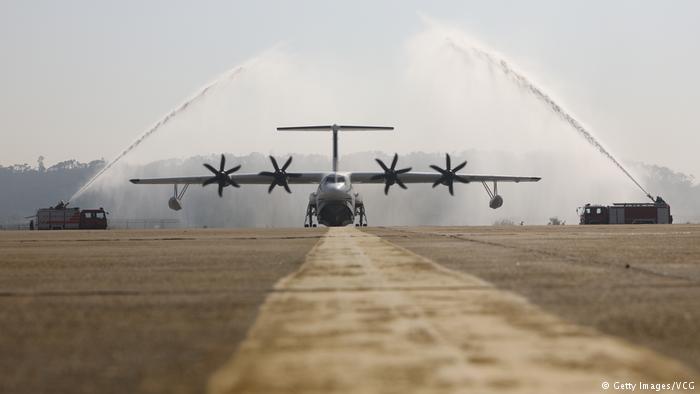 China tested the world's largest amphibious aircraft on Sunday. The 37-meter (121-feet) long AG600 aircraft plane, codenamed "Kunlong," took off from the southern Chinese city of Zhuhai and flew for almost an hour on its maiden voyage.
The aircraft has a 38.8-meter wingspan and four turboprop engines. It is around the size of a Boeing 737 and can carry 50 people.
"Its successful maiden flight makes China among the world's few countries capable of developing a large amphibious aircraft," chief designer Huang Lingcai told Xinhua state news agency.
The aircraft has military applications but will also be used for firefighting and performing maritime rescues, according to Chinese media.
It took the state-owned Aviation Industry Corporation of China eight years to build the plane, according to China Global Television Network.
China's military ambitions
China is currently modernizing its military with an emphasis on its naval capabilities. The AG600 puts China's controversial island-building projects in the disputed South China Sea within range.
"Its 4,500-km operational range and ability to land and take off from water makes it well-suited for deployment over China's artificial islands," James Char, a military analyst at Singapore's Nanyang Technological University, told the AFP news agency.
For instance, the aircraft can fly to the James Shoal, which is claimed by Taiwan and Malaysia.
"The plane's capacity and maneuverability make it ideal for transporting material to those maritime features that are too structurally fragile to support runways," Char added.
Beijing's territorial claims in the South China Sea, through which some $5 trillion (4.2 trillion euros) worth annual trade passes, is contested by a number of East and Southeast Asian nations.