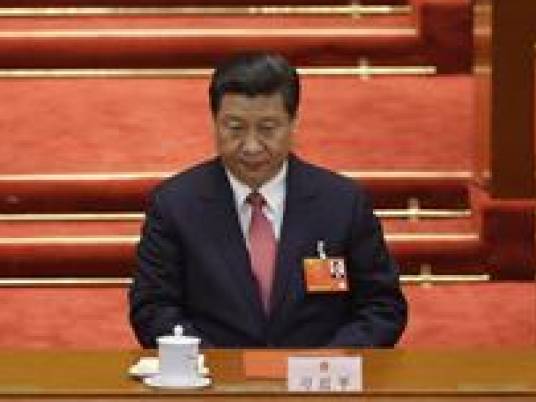 China supports Egypt's efforts to maintain stability and believes every country has the right to set its own path, President Xi Jinping told his Egyptian counterpart at the start of a visit to Cairo, China's Foreign Ministry said on Thursday.
Xi arrived in Egypt on Wednesday, the next leg of a Middle East tour, just ahead of the Jan. 25 anniversary of the 2011 uprising that ended autocratic president Hosni Mubarak's 30-year grip on power.
He met Egyptian President Abdel Fattah al-Sisi, who last month warned critics not to hold protests to mark the uprising's anniversary, and said China and Egypt had developed a deep friendship based on mutual respect.
"What path a country or people chooses cannot be separated from historical and cultural traditions or the reality of economic development and should be set and orderly advanced by the country or people themselves," Xi said, according to the foreign ministry.
"China supports Egypt's efforts to maintain stability, develop the economy and improve livelihoods, and supports Egypt to play an even greater role in international and regional affairs," he said in the short statement.
Opposition groups including the outlawed Muslim Brotherhood, families of political prisoners, and left-wing activists are calling for mass demonstrations on Jan. 25 to mark the fifth anniversary of the start of an 18-day uprising that ended Mubarak's rule.
Egyptian security forces have arrested several activists and shut down cultural spaces in recent weeks to prevent them from gathering as the anniversary approaches, while government-appointed clerics have preached against public dissent.
China and Egypt are expected to discuss potential Chinese investments in an array of Egyptian projects, including one to build a new administrative capital. China is also expected to lend Egypt's central bank $1 billion to help shore up its foreign reserves.
Xi, who is not being accompanied by his glamorous singer wife Peng Liyuan on this trip, arrived in Egypt from Saudi Arabia and will head next to Iran.
While Xi was in Riyadh, China signalled its support for Yemen's government, which is fighting an Iran-allied militia, and repeated a call for a peaceful settlement to the Syria crisis.
China relies on the region for oil but has tended to leave Middle Eastern diplomacy to the other four permanent members of the UN Security Council – the United States, Britain, France and Russia.
However, China has been trying to get more involved, especially in Syria, and recently hosted its foreign minister and opposition officials.