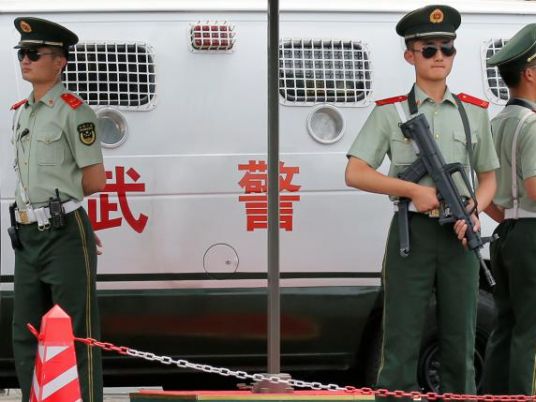 Beijing police shut down part of a major road on Monday as they dealt with a rare protest in the Chinese capital, with demonstrators gathering to complain the government had unfairly accused a company they say helps the poor of pyramid selling.
While there are thousands of protests every year in China, over everything from pollution to corruption, large protests are rare in heavily guarded and affluent Beijing, with the ruling Communist Party valuing stability above all else.
State news agency Xinhua said late last week that police had detained executives from a company called Shanxinhui, accusing them of operating a pyramid scheme and duping people out of money in the name of raising funds to help the poor.
On Monday, investors in the company came to Beijing from all parts of China to complain that Shanxinhui had been dealt a huge injustice and that it had genuinely helped a lot of poor people.
Police blocked off a major intersection in a working class southern Beijing neighborhood, lining up police cars and vans along the road and forming a cordon to prevent people accessing the grounds of a small convention center where some of the protesters had gathered.
Dozens of other investors in the company stood on the roads outside the center, as police kept a wary watch but did not attempt to move them on.
It was not immediately clear how many people were inside the grounds of the center or why they had chosen it as the site for their demonstration.
"They have accused the company of pyramid selling but they did nothing wrong. They only wanted to help poor people. It's an injustice," said a man who gave his family name as Zhong and said he was from the far western region of Xinjiang.
Another man, who declined to provide his name but said he was from Hebei province, which partially surrounds Beijing, said all the funds in the company had been frozen.
"We want China's leaders to come and hear our complaints," he said.
Beijing police declined immediate comment when reached by telephone.
One man showed a Reuters reporter video he said was taken inside the convention center grounds of police manhandling a protester. It was not possible to independently verify the footage.
The government has repeatedly vowed to crack down on financial crime and fraud.
Last year, Chinese authorities shut down peer-to-peer (P2P) lender Ezubao over an online scam state media said took in some 50 billion yuan ($7.41 billion) from about 900,000 investors.
($1 = 6.7483 yuan)