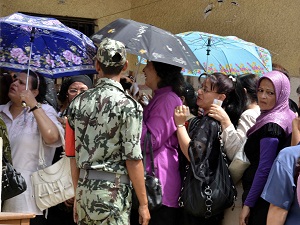 Many Egyptian Christians felt marginalized under former President Hosni Mubarak and are voting to keep an Islamist from replacing him, out of fear their community would be further sidelined.
In Shubra, a working-class Cairo neighborhood home to many Copts, voting lines were long, and the worry and tension felt by many Christians was palpable.
"I don't want the Islamists. If they come to power and I oppose them, they will say I am criticizing their religion, and who knows what they'll do to me? We can't talk to them," said 57-year-old Sanaa Rateb after casting her ballot.
Dressed in a floral jacket topped with a pearl necklace, Rateb railed against those, including the Muslim Brotherhood, who object to a Christian or a woman running for president.
"It's a mistake. Where is the principle of citizenship in all this? I have the right, as a woman or as a Copt, to stand for the presidency if I want," she said.
Nassim Ghaly, a young man with a cross tattooed on his wrist in the distinctive manner of Egyptian Christians, interjected: "God protect us if the Islamists come to power, and they control Parliament and the presidency at the same time."
Like all the Copts questioned on Wednesday, Rateb and Ghaly voted for Ahmed Shafiq, the last prime minister to serve under Mubarak. Shafiq's campaign posters were the most visible in Shubra.
"Shafiq is a respectable man who can restore the country," said Mary, who declined to give her family name.
The Coptic Orthodox Church, whose patriarch Pope Shenouda III died in March, has refrained from endorsing a candidate. However, Mary insisted that within the community, "everyone is voting for Shafiq."
But she said the community is not looking to Shafiq to protect their rights as Christians.
"We don't want anyone to defend us. We just don't want any problems and to be left alone," she added.
The Middle East's largest Christian community has become increasingly concerned about the rise of Islam as a political force since the mass protests that toppled Mubarak.
The Coptic community, which makes up between 6 and 10 percent of Egypt's population of about 80 million, is traditionally low-key and fairly absent from the country's circles of power.
Copts want a non-religious state that would guarantee the rights of all religious groups, said Sanaa Halim, who is in her 60s.
"The Islamist trends are worrying," one of her friends added, declining to give her name. "And what have they done in Parliament? Nothing, except talk about women and female circumcision."
The friend said she was thinking about voting for former Foreign Minister and ex-Arab League chief Amr Moussa "because he's an experienced man," but in the end cast her ballot for Shafiq "because everyone's voting for him."
Mubarak named Shafiq, a former Air Force chief of staff, as prime minister in the final days of Mubarak's regime.
He is reviled by the youth of the "revolution," Muslims and Christians. They call him "feloul," a pejorative term for those who served in the old regime. But others reject that label.
"If Shafiq is feloul, then we are all feloul," said Ghaly.
Still, the subject is sensitive, and many of those interviewed were unwilling to be identified — most of them whispering as they spoke so they wouldn't be heard by their fellow voters.
Asked about her position on Egypt's Islamists, a young Christian woman responded dryly: "I'm sorry, I don't wish to say anything on that subject."