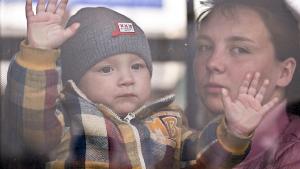 The more than 500 civilians sheltering underneath the Azot chemical plant in the besieged city of Severodonetsk, eastern Ukraine, have not been supplied in two weeks, the district's leader told CNN on Wednesday.
"There are food stocks, but they have not been resupplied for two weeks," Roman Vlasenko, head of the Severodonetsk district military administration, said via text message. "So stocks won't last long. If there is a humanitarian corridor, I believe people are ready to leave Azot."
The Russian Ministry of Defense said that it would open an evacuation corridor from the plant for civilians starting on Wednesday, but only to Russian-held territory to the north. Ukrainian authorities have not commented on Russia's proposal, and have generally been skeptical of such claims, given past Russian practice: At repeated points during the war, they say, Russian forces have broken promises to open evacuation corridors, driven civilian evacuees onto their territory and failed to observe ceasefire agreements.
They have been hiding there from the very beginning," Vlasenko said. "There are real bomb shelters there. In most cases, these are employees of the enterprise, local residents."
In an interview on national television, the head of the city's military administration said that travel between Ukrainian-held Lysychansk and Severodonetsk was difficult but still possible.
"Ways to escape are quite dangerous, but they exist," Oleksandr Striuk said. "It is wrong to say that the city is completely cut off. Logistics has become much more complicated."
He said that fighting was concentrated in the center of Severodonetsk.
"We control the industrial zone, the perimeter that provides connections with Lysychansk," he said. "The situation is difficult, but stable."
Striuk said that it was difficult to estimate how many civilians were left in the city, saying only that there were around 10,000 people left "at the beginning of the escalated situation."