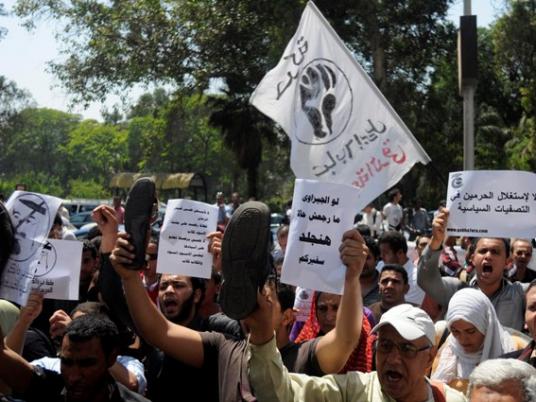 Clashes erupted between protesters and security forces outside the Saudi Embassy in Giza Tuesday, as demonstrators decried the Gulf kingdom's conviction of an Egyptian lawyer on questionable drug smuggling charges earlier in the day.
A Jeddah court sentenced Egyptian lawyer Ahmed al-Gizawy to five years in prison and 300 lashes on the charge of smuggling drugs into Saudi Arabia.
Gizawy's family is among the protesters outside the embassy, and has announced an open-ended sit-in until President Mohamed Morsy resolves the issue.
Last April, Gizawy was arrested at Jeddah airport and accused of smuggling the drug Xanax into the country. Activists say Saudi authorities fabricated charges against the human rights lawyer in retaliation for his work with Egyptian detainees in the kingdom. He pleaded not guilty to the charges.
Security forces have intensified their presence around the embassy and put down iron barriers outside, and have arrested three protesters. Security officers said the detainees will not be released until the protesters disperse.
Shahenda Fathy, Gizawy's wife, said she was assaulted by police officers during the protest, and demanded an investigation into the incident.
His sister, Shereen, said the case against Gizawy has been "fabricated" because he was working to improve the rights of Egyptian workers in the kingdom.
"No clear evidence has proven that Gizawy is guilty," she said, adding that she and the other demonstrators will not disperse until the president's office pledges to end the dispute over his conviction.
Edited translation from Al-Masry Al-Youm