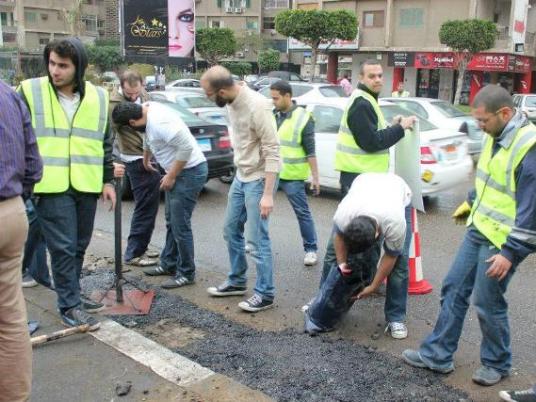 Cairo's streets, riddled with potholes, can be a major source of frustration for motorists. Last month, a group of civic-minded youths began patching up Nasr City's roads. The group, Basetah, wants to develop the country through resident participation.
"A lot of people talk and don't act afterward. We try to work more than we talk," said Ammar Yasser, one of the founders of Basetah, which translates as "simple" in English. "We're trying to develop the country as much as we can. At the moment we are focusing beyond fixing potholes."
Formed last March, Basetah hopes to improve engagement between different social groups. In the months following last year's 18-day uprising, Yasser and his friends felt there was a breakdown in communication. In response, Basetah has volunteers devoted to hitting the streets and discussing issues "like what it means to be free, accepting and tolerant of others, as well as how to cooperate in a society," said Yasser.
So far, the group has repaired four roads through its Seket al-Salam project, including Abbas al-Akkad Street and Zaker Hussein Street, which Yasser said are the most congested areas in Nasr City. Already, the group has raised roughly LE3,000 in donations to help improve roads in Nasr City.
Hoping to foster more large-scale community involvement, Basetah is reaching out to other civic groups and political movements. Other projects are already in the works. In cooperation with the Muslim Brotherhood's Freedom and Justice Party, Basetah has started a campaign to beautify run-down areas of Nasr City. Already, they have cleaned up the Sakr Koreish neighborhood.
"Because [roads are] such a big problem that affects everyone, we thought [Basetah] would really bring people together and promote cooperation, and not continuously depend on the authorities to get things done," said Yasser, adding, "Even if the situation improves and local municipalities begin working in earnest, we want to promote self-sufficiency and localized problem solving."
The project, which began with 12 volunteers, has already grown to 37 people, with an additional 250 who have registered to participate in future projects. Already, the group has plans to launch projects in Heliopolis, other districts of Nasr City, and possibly Maadi. The response from the community, according to Yasser, has been positive.
"I'm really glad someone is tackling this issue and is more organized about it than people were after the revolution. I started a cleaning campaign in my area, but I couldn't continue working on it," said Azza Gaber, a small-business owner who lives in Nasr City. "They are obviously taking it seriously and committing a large part of their time to it, which is necessary for the project to continue and I hope it does."
Though some of the volunteers are engineers, Yasser said that so far, much of what they've learned has been though "trial and error."
In the weeks after Mubarak's fall, people organized large clean-up efforts throughout the city. Throughout downtown, people armed with brooms, gloves and trash bags partook in a massive cleanup. Though the fervor was short-lived, the effort showed many how to empower their communities.
"To see projects like this on the street will push people to feel a greater sense of responsibility, to make them see that they too can make a difference in their communities," said Yasser. "Most people have untapped energy that just needs channeling, and now we have other similar initiatives working on the same issue … in Heliopolis."