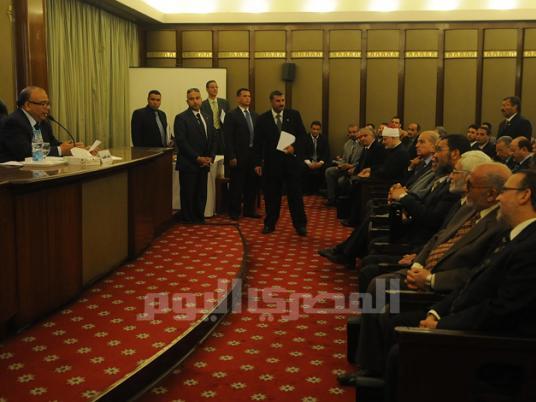 The Constituent Assembly tasked with writing Egypt's new constitution finished drafting its first article on Wednesday, which now states: "The Arab Republic of Egypt is a democratic, consultative, constitutional and modern state based on the separation of powers and the principle of citizenship."
The article adds that, "Egypt is part of the Arab and Islamic nation, bound to the African continent with strong ties."
Assembly member Meguid Shebeita said the word "consultative," which is derived from the Arabic word Shoura, means "the participation of all authorities in the political and constitutional operations, so that no individual force can monopolize power in the state."
The president is head of the armed forces and has the right to appoint the defense minister, and the military's budget will remain private, only to be reviewed by Parliament in closed sessions, the assembly members agreed. Finally, they agreed that the president will be able to declare war only with the approval of the armed forces and Parliament.
On Wednesday evening the assembly also finished drafting a new article pertaining to the independence of Al-Azhar, said assembly member Huda Ghania. According to the article, Al-Azhar would become the nation's Islamic authority and would independently of the government oversee its own budget and the appointment of its grand imam.
The committee also discussed amending Article 60 of the 1971 Constitution that stipulates that "maintaining national unity and keeping the secrets of the state is a duty for every citizen," said Wahid Abdel Meguid, a member of the assembly's rights, freedom and public duties committee.
Assembly members agreed that "state secrets" was an ambiguous term, said Abdel Meguid, and they would prefer to substitute the phrase "national security."
A new article was also proposed that would guarantee the freedom of information and stipulate legal action against those found guilty of hiding or destroying information, except as pertains to military security or private life.
Edited translation from Al-Masry Al-Youm