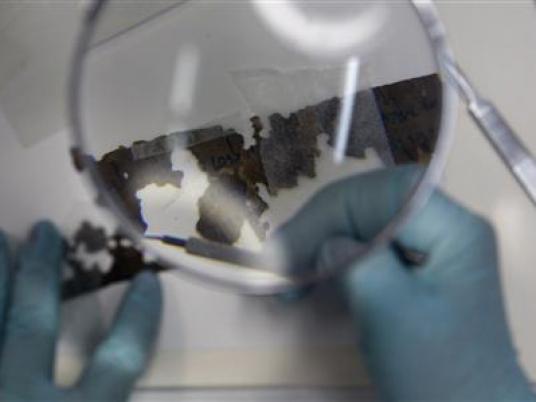 A non-commissioned police officer was killed and other three officers were injured on Tuesday night in a militant attack that targeted a security checkpoint located on the road to St. Catherine's Monastery in South Sinai, the Interior Ministry said in a statement.
According to the statement, the militants opened fire on the officers from a mountainous area overlooking the checkpoint. This escalated into clashes between the police and militants.
"In response to the attack, police forces stationed at the checkpoint exchanged fire with the attackers. This caused the militants to flee the scene; one of them left his gun and some ammunition. The attack resulted in the death of a non-commissioned police officer and the injury of three others," the statement read.
Police forces were immediately sent to the location of the attack; a large-scale security sweep is ongoing to arrest the perpetrators, the statement added.
Directly following the release of Interior Ministry's statement on the attack, the Islamic State group declared responsibility for the attack. The terrorist organization's Amaaq media outlet reported that its affiliated militants in Sinai carried out the attack.
Before the Interior Ministry released its statement, numerous media outlets reported on the attack by citing media statements issued by the South Sinai Security Director Ahmed Tayel.
Tayel had asserted that the circulated news reports of an attack near the monastery "have nothing to do with reality".
In a clear contradiction to the Interior Ministry's statement, Tayel said the reported injuries were due to one of the officers based at the checkpoint mistakenly firing his weapon.
The statements released by Tayel caused confusion among numerous local media outlets, especially following the Interior Ministry's statement which confirmed the attack
The attack on the checkpoint near St. Catherine's Monastery came soon after a the application of nationwide state of emergency that will last for at least three months. The Emergency Law was imposed by the president in aftermath of two deadly attacks that targeted churches based in Tanta and Alexandria during Palm Sunday celebrations.
The attacks resulted in the death of 46 people and the injury of more than 170.
Since 2014, the Egyptian security apparatuses represented in army and police forces have been engaged in violent military confrontations with the IS-affiliated group Sinai Province which considers army and police forces to be apostates.