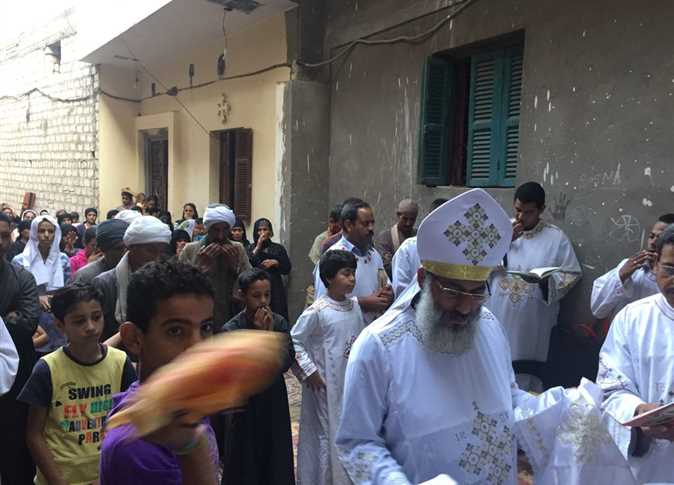 Coptic Christians in Ezbat al-Forn, of the Abyouha village, held mass and celebrated the Feast of the Assumption of Mary in the streets last night, with no objections reported from Muslim residents in Abu Qurqas city of Minya governorate.
The village had witnessed clashes between Muslims and Coptic Christians on Sunday. The police intervened to maintain order after reports the location used for prayer was not licensed as a church.
Bishop Makarios, the top Coptic Orthodox cleric in Minya, said that Muslims in the village have never objected to the prayers of the Coptic Christians in any place in Ezbat al-Forn.
He added that the relations between the people are kind and neighborly, contrary to media reports that say Muslims object to Christian prayers.
Makarios added that prayers were held in the streets in peace and security with no protest.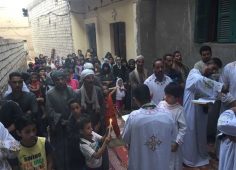 The prosecutor general's office in Abu Qurqas ordered the confiscation of a house used as an unlicensed place of prayer, by Coptic Christians in the area.
The prosecutor's order on Monday is pending the concerned authority's decision on whether or not to license the building as a church. The office also ordered police to search for suspects involved in the clashes between the Muslims and Coptic Christians, and arrest them.
Fights erupted between Muslims and Coptic Christians in Ezbat al-Forn on Sunday, and Christians said that security forces prevented them from holding mass and prayers, as the church is not licensed.
Head of Abu Qurqas city council, Brigadier Mohamed Salah, said that some Coptic citizens in the village tried to pray at the house of a citizen in the presence of a priest, prompting some Muslims to intervene and prevent them, due to the fact they did not posses the proper authorization.
Governor of Minya Major, General Essam Bedawey, said Monday that there are tensions between Muslims and Coptic Christians in some areas of the governorate, and there is a comprehensive plan to address these spots.
Edited Translation from Al-Masry Al-Youm