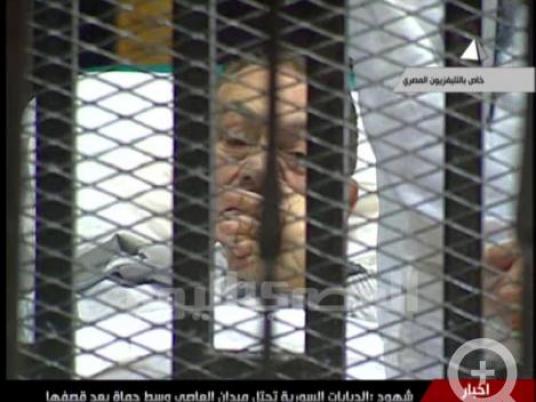 The trial of ousted president Hosni Mubarak, his sons Alaa and Gamal, Habib al-Adly, and six of his former assistants has been adjourned to Monday by the Cairo Criminal Court, so the defendants' cases can be heard.
On Sunday morning the court resumed hearing the case put forward by Mubarak's lawyer, Farid al-Deeb, in response to accusations of squandering public money, financial corruption and exporting gas to Israel for lower than market prices.
Mubarak was the last suspect to arrive at the Police Academy, where the trial is taking place.
Deeb cited former vice president Omar Suleiman's testimony that "When Mubarak knew about the low price of the gas, he asked him to renegotiate the terms of the contract with former Israeli Prime Minister Ehud Olmert or cancel the deal."
During the previous court session, Deeb said Egypt's intelligence service led the gas deal negotiations and chose businessman Hussein Salem's company due to his position in the intelligence service. He also added that the intelligence service agreed to the gas deal for reasons cited by Suleiman, some of which cannot be published for reasons of national security.
"Mubarak is not a suspect in the gas case," Deeb said.
Deeb had already dismissed the charge of killing protesters, instead laying responsibility on the armed forces, who he said were in charge of securing the country after 28 January 2011 even though Mubarak did not resign until 11 February.
Deeb submitted evidence that he said will get Mubarak acquitted of killing protesters.
Deeb also said that Mubarak is still Egypt's president because he has not submitted his resignation in writing, and so the trial is invalid. According to law, he said, the president should stand trial in a court composed of six members of parliament and six of the eldest chancellors of appeal and cassation courts.
Translated from Al-Masry Al-Youm