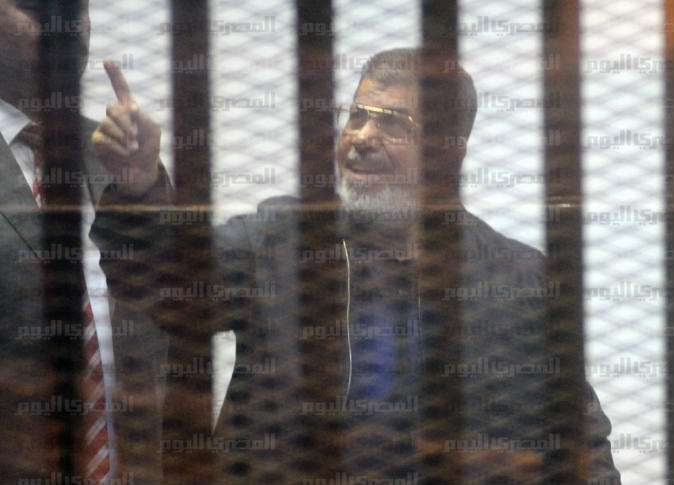 Egypt's Court of Cassation on Tuesday overturned a ruling handed down for the death penalty against prominent figures of the banned Muslim Brotherhood group.
Ousted Brotherhood President Mohamed Morsi, the supreme guide of the group Mohamed Badea, and 15 others have been sentenced to lifetime imprisonment penalties in the case known as "espionage with Hamas (Palestinian group)."
The defendants appealed the ruling before the Court of Cassation which today granted them a retrial.
Cairo Criminal Court's ruling in June 2015 sentenced Morsi, Badea and 15 other members of the group to lifetime imprisonment, while 16 others (13 of them tried on absentia) were given the death penalty, including the deputy supreme guide of the group Khairat al-Shater. Also, two defendants have been sentenced to 7 years in prison in the same case.
Only 22 defendants in the case have appealed the ruling.
The prosecutor has charged the defendants in the case with: illegally obtaining state secrets; misappropriation of documents issued by the sovereign bodies of the state on the country's security; as well as concealment and disclosure of state secrets to a foreign country; and collaborating with it for the purpose of harming the country's military, political, diplomatic and economic situation.
The sentences handed down against Morsi are not final and he has appealed them all. Morsi is still being tried in another case related to insulting the judiciary.
In the first final verdict against former Brotherhood presiden Saturday, the Court of Cassation upheld a 20-year prison sentence for Morsi handed to him last month, on charges arising from the killing of protesters during demonstrations in 2012, in a case known as the "Ittehadiya Incidents".
Edited translation from Al-Masry Al-Youm