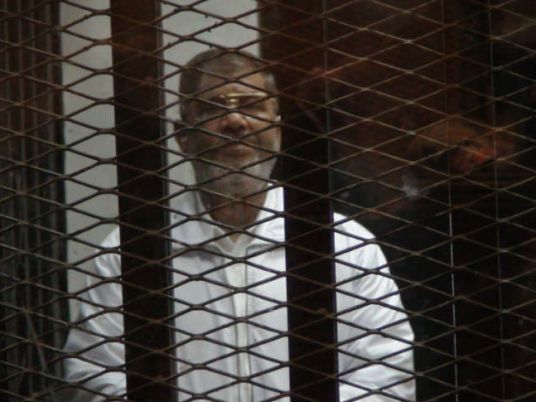 The trial of toppled President Mohamed Morsy and 34 other Muslim Brotherhood leaders over espionage charges has been postponed till 28 April.
The court heard the prosecution witnesses on Tuesday.
The court ordered in the previous session the formation of a committee of technicians to examine videos that have been brought as evidence to decide whether they had been manipulated. It also ordered the formation of ordered the formation of a tripartite committee from the National Telecom Regulatory Authority to check whether the defendants' e-mail addresses are true and emails attributed them and the presidency under Morsy.
Also the court ordered a medical committee to examine the health conditions of MB deputy head Khairat al-Shater, former president's adviser Essam al-Haddad, former MP Farid Ismail to at the prison hospital.
The Cairo Criminal Court had postponed the trial to 23 February as Morsy's defense lawyers withdrew to protest keeping the ousted president and fellow defendants in a soundproof glass dock.
The prosecutors accused Morsy of spying for Hamas and providing its members with information concerning the Egyptian security situation during the 25 January revolution. They also accused him of helping detained Hamas members in Egyptian prisons escape during the January uprising. Investigators accused the international organization of the Muslim Brotherhood of committing violence in Egypt to create chaos and planning a terrorist scheme to form an alliance between the Muslim Brotherhood in Egypt and other foreign extremist organizations including the military wing of the Hamas, Lebanon's Hezbollah, which has links to Iran's Revolutionary Guards, and other local and foreign organizations.
The group also allegedly smuggled weapons and members to Gaza via tunnels with the help of Hamas for the purpose of military training. The suspects also allegedly gathered with other members of extremist groups in Sinai for training on how to spread propaganda to achieve the goals of the Muslim Brotherhood. According to investigations, the international organization of the Muslim Brotherhood funded criminal schemes in its Egypt branch, which was started in 2005 and resumed during the 2011 revolution, to assault security forces and arming citizens. Prosecution also accused suspects of preparing to gain control of security establishments in Sinai and declare it an Islamic state in the case that Morsy did not win the presidential elections, according to the investigations.
Haddad and other presidential team members are accused of sharing confidential reports meant for review by the president to the Muslim Brotherhood and other foreign authorities as an award for carrying out terrorist operations and assisting the Brotherhood in Egypt until it assumed power. Some of the reports were sent by the presidency's email indicating that Morsy was informed, investigations said. Investigations also stated that the foreign groups carried out attacks against police and armed forces in Sinai to intimidate Egyptians and destabilize the country in order to reinstate Morsy.
Edited translation from Al-Masry Al-Youm