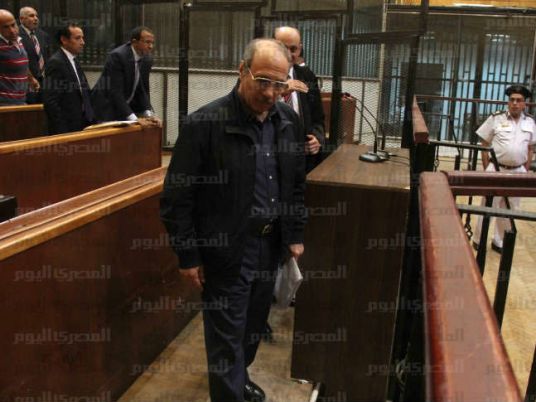 Cairo Criminal Court set 29 December next to issue a verdict in the trial of Mubarak-era Prime Minister Ahmed Nazif and Interior Minister Habib al-Adly over corruption in an import deal of cars' number plates.
The criminal court had previously given Nazif a suspended sentence of one year in prison, while Adly received five years in prison and former Finance Minister Youssef Boutros-Ghali 10 years in absentia.
The legal representative of German license plate manufacturer, UTSCH, also received a suspended 18-month sentence.
The first instance court originally indicted all suspects on charges of wasting LE92 million in state funds when a German company was granted contracts to provide license plates by direct order, supplying plates at prices higher than market price and generating excessive revenues in violation of the law.
Nazif served as prime minister under former President Hosni Mubarak from 2004 to 2011, before resigning during the successful 25 January popular uprising against the regime.
Nazif's lawyer Farid al-Deeb said that his client's goal of the deal was to achieve the public interest and the eliminate terrorism, but his reward was prison. Nazif called on the court to lift the injustice and acquit him of charges.
Adly defended himself saying the deal was Ghaly's idea who told him that manufacturing these plates would cost the ministry nothing.
Adly added he agreed to the deal because it helped the Interior Ministry to limit the theft of cars used in terrorism.
According to Adly, forging number plates was spread which hindered the traffic police's work.
As the problem aggravated with the increase of the number of cars in Egypt, the company which provided the plates to ministry could no longer afford them, forcing people either to forge plates they can use or move without plates, he said.
Edited translation from Al-Masry Al-Youm